Have you been considering radiant floor heating for your home or building? If so, you've come to the right place.
In this ultimate guide, we'll discuss everything you need to know about heated floors and radiant heat, including how radiant floor heating works, the benefits and downsides, and more.
How Does Radiant Floor Heating Work?
Using thermal radiation and electromagnetic waves, a radiant floor heating system warms up a room by heating the floor directly rather than warming the air in the room. Radiant systems heat the floor, and that heat radiates up and is absorbed by other objects in the room, helping to warm the entire space efficiently.
In short, heated floors use radiant heat technology to make the floors warm, and the heat from the floors rises and disperses throughout the room.
Types of Radiant Floor Heating
There are two primary radiant floor heating systems: electronic and hydronic systems.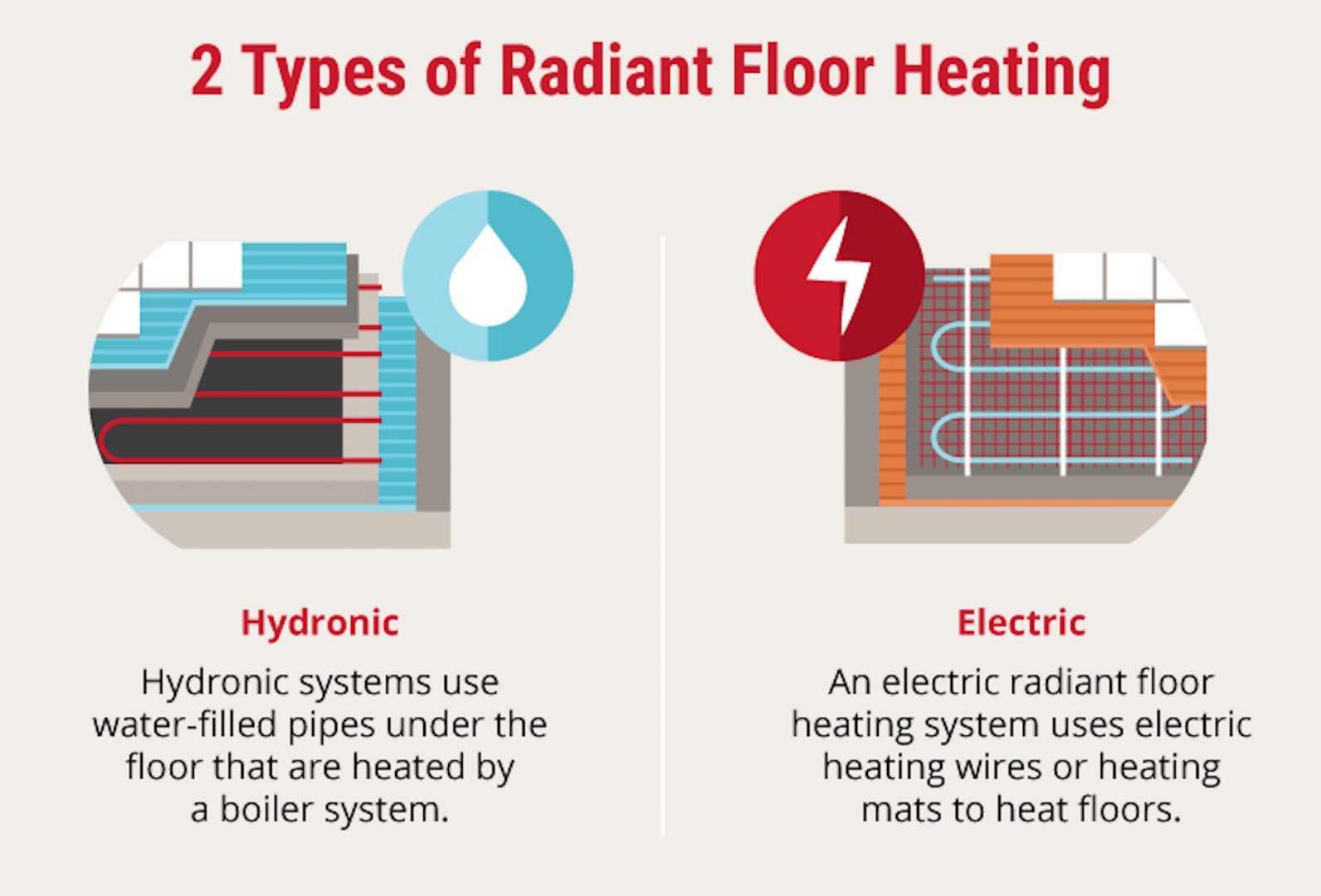 Hydronic Radiant Floor HeatingSystems
Hydronic systems use heating pipes under the floor that are heated by a boiler system to heat the floors. The long-term cost of running the system is less expensive than an electric system, however, the installation is much more costly. Hydronic systems take longer to install than electric systems and generally work best with new builds versus installing them into an existing home or building. Unlike the electric system, a hydronic system will require regular maintenance.
Electric Radiant Floor Heating Systems
An electric radiant floor heating system uses electric heating wires to heat the floors. Installation is quick and incredibly energy efficient. Electric systems are also cost-effective and less expensive to install (compared to other heating systems), especially when considering the long-term electricity costs. Electric systems also require no ongoing maintenance. They're installed and ready to go.
8 Benefits of Underfloor Systems
There are many benefits to using an underfloor heating system. Here are the top eight.
1. Invisible Hardware in Livable Areas
Unlike HVAC systems, space heaters, radiators, and other heating options, underfloor systems are built to be discreet. As a result, they're virtually invisible in your living spaces, making them an aesthetically appealing heating option.
2. Energy-Efficient and Cost-Effective
Unlike gas or boiler-based systems, radiant heating systems are energy-efficient and cost-effective. Traditional radiators have to be heated as high as 167 degrees Fahrenheit before they're able to heat a room. A radiant heating system only has to get around 84 degrees Fahrenheit to warm the entire space. With duct-based heating systems, you'll always have a bit of duct loss as well.
However, with radiant heating, the floors are heated directly, resulting in less lost energy. Radiant floors are so energy efficient that they save an average of 15% on heating bills.
3. Smart Thermostat Compatibility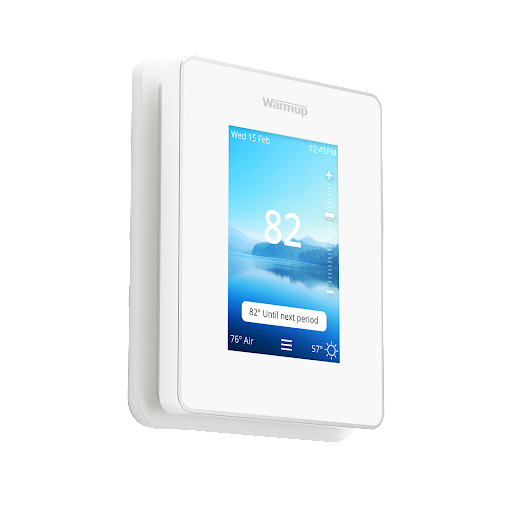 At Warmup, our smart thermostats are compatible with Creston and Control 4 home automation systems. They also work with Alexa and Google, making them easy to integrate into your existing systems. Using a smart thermostat, you can program your radiant floors on a preset schedule to provide reliable and consistent temperatures to your home or building.
4. Fewer Limitations on Interior Design
With radiant floor heating, you can enjoy your entire space without bulky radiators hanging on the wall. Your design freedom opens up when you don't have to worry about designing around radiators.
5. Maintenance Free
Electric-based radiant floor heating systems generally do not need any ongoing servicing or maintenance. After they're installed, they shouldn't require any servicing. This makes them a worry-free, low-maintenance heating option.
6. Compatible with All Types of Flooring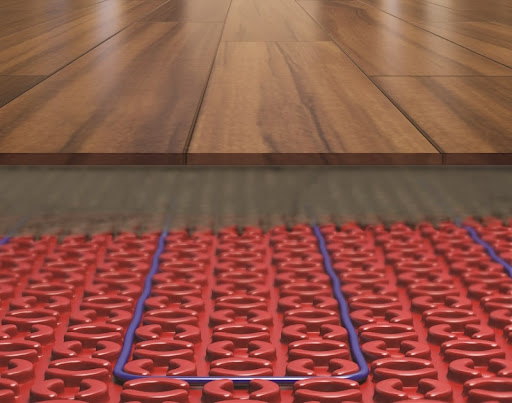 Radiant heated floors are compatible with all types of flooring. It doesn't matter if you want wood, laminated, stone, tile, carpet, or something else – radiant underfloor heating can work for your preference.
Tile & Stone: DCM-PRO – highest heat output cable, anti-fracture membrane for tile crack prevention
Vinyl / LVT: StickyMat or DCM-PRO
Laminate, engineered wood, carpet: foil – no thinset or leveler required
Concrete: in-slab cable
7. Ease of Installation
Electric-based radiant floor heating systems are a breeze to install anytime flooring is being installed. There are options for professionals and DIYers alike.
8. Air Quality
Radiant heat is a much better alternative when it comes to air quality. Radiators cause high temperatures, which can reduce oxygen levels. Plus, the circulation from air rising and falling gets dust going around in circles, which is not good for air quality. On the other hand, radiant floors keep the air fresh and don't contribute to the circulation of dirt or debris.
3 Disadvantages of Radiant Floor Heating
There are many upsides to radiant floor heating, but there are also some downsides to consider.
1. Having to Replace Old Flooring
To install a radiant heating system, you'll have to remove and replace your existing floors. This is why it's best to install floor heating systems when you're already in the process of renovating or installing new floors.
2. Installation Time
You usually have to apply a self-leveling compound on top of your floor heating system, and this compound has to be totally dry before you can put the floor covering on. The dry time takes around a day or two. (If you're looking at a water-based system, the installation time is a bit longer).
The DCM-PRO system is "ready to tile"; the project can be completed in 1 day. The FOIL system does not require any thinset or leveler making it possible to install and use same-day.
3. Floor Height Issues
Warmup radiant flooring systems range from adding no height (foil under carpet) to 7/8″ in height (ultralight + DCM-PRO with leveler). Additionally, most people also add some insulation boards to maximize the system's efficiency, adding another inch to the floor. As a result, radiant floors cause a slight height loss, so, if you're thinking about installing radiant heating in a room that's already short, this could potentially be an issue.
The Best Areas of a Home to Install Radiant Heating
Warmup systems are designed to be controlled per room making them a very energy-efficient option for supplemental or primary heating. By only heating the spaces you are using, while you are using them, you can drastically cut your energy savings.
Bathrooms
Bathrooms are a terrific room to install a floor heating system in, because no one likes stepping out of a shower onto a freezing floor. No matter where you are located, tile is always cold to the touch. Bathrooms generally have tile floors, damp towels, and lots of humidity, making them cold – especially in the fall and winter. Heated floors in the bathroom help keep the bathroom comfortable year-round.
Kitchens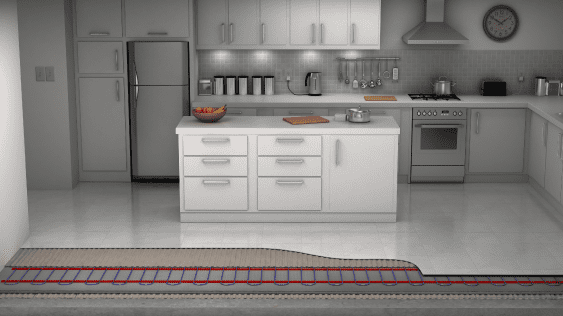 Kitchens generally have cold tile flooring. They also tend to have a bit of humidity too. As a result, kitchens can get cold in the fall and winter, making heated floors a great option to consider. The kitchen is a great place to consider radiant floor heating as it is by and large one of the most used rooms in a home.
Bedrooms
Everyone loves a cozy bedroom, and nothing makes a room cozier than toasty temperatures. Radiant flooring is a terrific way to keep the bedroom warm without cranking up the HVAC or resorting to unsafe options like space heaters.
Garages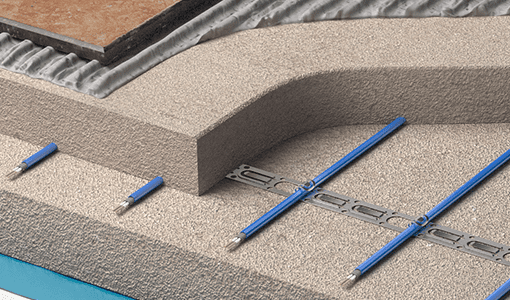 Most people don't think about their garage when considering a radiant floor heating system. However, having heated floors in your garage can help control snow in the winter and keep your garage comfortable when you're working on your car or hanging out.
Home Offices
You will not want to leave your home office once you install heated flooring. With so much time spent at our desks, home offices are a great place to invest in home upgrades that bring lasting comfort.
Basements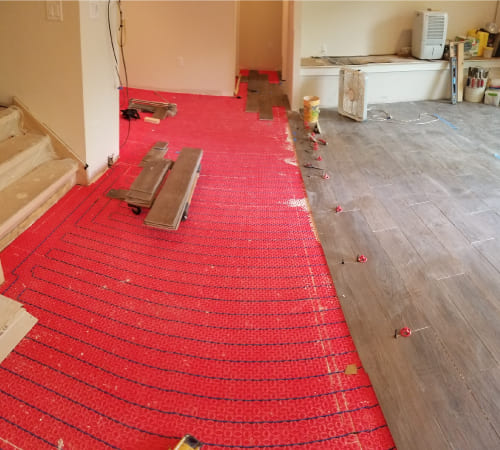 Basements are often damp and cold in the cooler months. However, with a radiant floor heating system, it can stay comfortable throughout the entire year. In addition, since heat rises, having a radiant system in your basement can help keep your whole house warmer.
Sun Rooms
Sunrooms are excellent rooms during the spring and summer. It's a place to enjoy the outdoors without direct exposure to the elements. Sunrooms often have lots of windows to keep the room cool during the warmer months. However, those same windows can make the sunroom a frigid area during the winter. Heated floors in the sunroom can help make the room accessible and comfortable year-round.
Driveways
If you live in an area with lots of snow and ice, a radiant heating system under your driveway is an excellent option for you. When you install a radiant heating system under your driveway, you don't have to worry about ice and snow anymore. Instead, you simply turn on your system and let it melt away the ice and snow from your driveway.
Tiny Homes and Mobile Homes
Many love to explore the world in an RV or mobile home, while others like to make their journeys a bit more permanent with a tiny home on wheels, or just one nice property somewhere in the woods. Radiant floor heating offers a powerful heating solution no matter the location or environment.
A Tree House!
If you can dream it, we can heat it! Who wouldn't love a year-round treehouse? Colder months don't necessarily have to signal an end to outdoor fun. With radiant heating, your kids can continue to enjoy their treehouse, even when the cooler weather rolls in. (The same applies to adult treehouses, too!)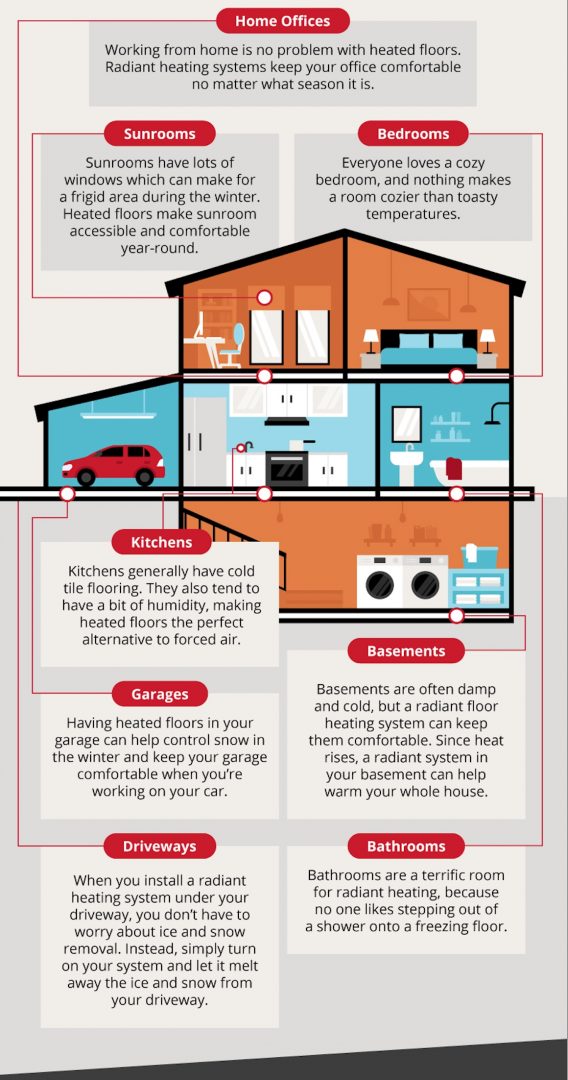 Electric Radiant Heating Compared to Other Heating Alternatives
What are some of the alternatives to other heating systems? How does radiant floor heating compare?
Furnace and Forced Air
Almost everyone is familiar with furnaces and forced air systems. Forced air systems are typically HVAC systems that use gas or electricity to produce heat and push it through ductwork to heat the home. While they heat a home quickly, they can be noisy, unsightly, and cause a slew of allergy issues. The heat is also concentrated towards the top of the room, meaning you'll have to crank up the heat higher (and use more energy) to keep your room warm.
On the other hand, radiant heat systems operate at lower temperatures than forced-air systems and eliminate parasitic heat loss, saving you tons of money on energy bills. They also don't have the same issues with allergies since there's no air blowing around. Radiant heating systems might take a bit longer to heat your home, but the heat is sustained, which leads to more stable temperatures and energy bills.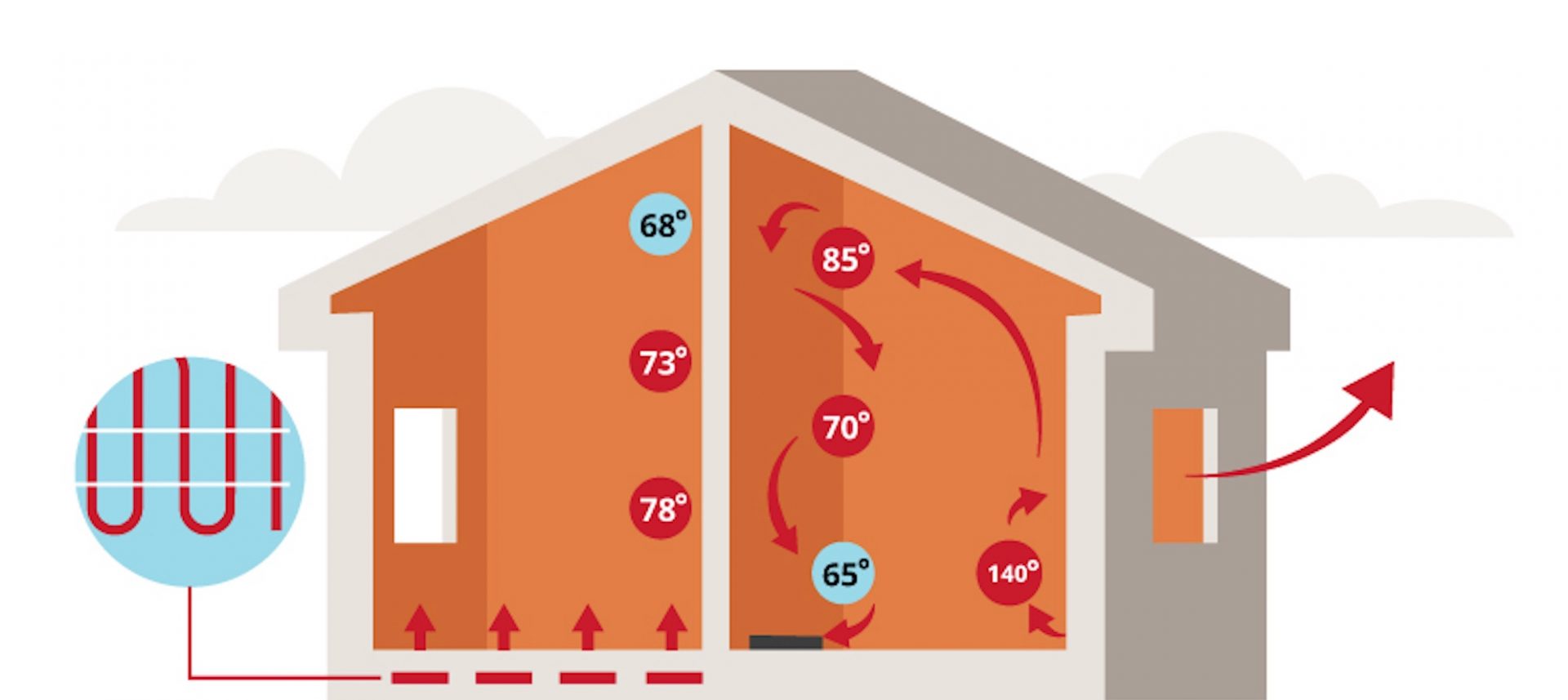 Boilers and Water-Based Systems
Boilers heat water to turn it into steam. Then, it pushes that steam through the home to heat it. Compared to electric-based systems, water-based systems take longer to install, require regular maintenance, take longer to heat up and cool down, and are usually only an option for brand-new builds.
Electric Baseboards
Electric baseboards and radiant heat might seem similar, but there are many differences to consider. Electric baseboards are generally two to eight feet long and are either 120 volt or 240 volt, and they use convection to heat the room. Installing electric baseboards is cheaper than installing a radiant heating system, however, the long-term costs are usually much higher because they aren't as efficient. In fact, it costs two to three times as much to heat a room using an electric baseboard than a radiant floor heating system.
Hybrid Heating
In hybrid HVAC heating systems, also called dual-fuel systems, a heat pump is backed up by a combustion furnace. It uses the heat-pump option unless the temperatures drop, at which point the combustion furnace kicks in. These systems do a great job of ensuring your home stays warm no matter what. However, these systems are expensive to install and often require a bit of maintenance. They also have the same downsides as forced air systems.
Space Heaters
Space heaters are cheap and portable. You simply plug them into an outlet, and they start to work. They're ideal for quick heating in a pinch. However, they present a serious fire and burning hazard. They're also easy to trip over and can cause your breaker to shut down. They also only heat one area of space. Radiant floor heating doesn't have any of these disadvantages. Instead, heated floors heat your entire home safely and efficiently.
How Does Radiant Floor Heating Perform?
We've already talked a bit about how radiant heating compares to other options, but it's worth repeating. Radiant floor heating systems are energy efficient and do a terrific job of providing sustained and reliable heating for your whole home. However, there are a few ways to ensure you get the best performance out of your radiant heating system.
Insulation Recommendations for Structures With Radiant Floor Heating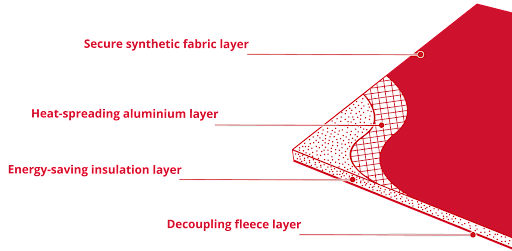 To get the most out of a radiant floor heating system, you want to consider using subfloor insulation with your radiant floor. Insulation helps lower operational costs, ensure reliable and consistent heating, prevent moisture build-up, improve your environmental impact, and more.
Ultralight 4-in-1 insulation is the first insulation board designed for use with floor heating systems. Ultralight is always recommended for installations on a concrete slab or above a crawl space
You can further optimize performance by using a smart thermostat to program your system to turn on and off at designated times. You can also utilize Warmup's SmartGeo feature that will use the location of user's cell phone data to control heating based on proximity to home.
How to Install Radiant Floor Heating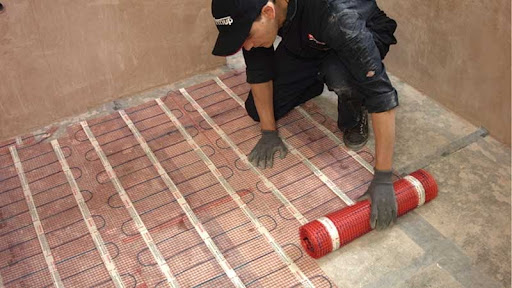 Installation varies depending on your exact system.Depending on your subfloor and finished flooring type, Warmup will recommend different products from our range. No matter which system is recommended for your project there are some general installation guidelines we always recommend.
Electric Heated Floor Systems
You can choose either mat or wire-based electric radiant floor heating systems. In both cases, the system is installed right onto a layer of insulation. Some radiant systems have a self-adhesive backing or rails. Others come with a kit that includes specialized tape. Either way, the system is installed on a layer of insulation. Then, after testing the system and connecting it to electricity, you can put your floor on top of it.
7 Electric System Installation Tips:
1. Radiant heating can not be cut and is not installed wall to wall or under any permanent fixtures. Calculate your heated area by deducting all fixtures that lay flush with the floor then multiply by .85 to give yourself a buffer around the room and fixtures you've deducted. From here, figuring out what you need is simple! Our instant pricing tool will give you a list of everything that we recommend for your project.
2. Insulation is recommended on a concrete slab or above a crawl space. Warmup offers 2 different types of insulation – Ultralight 4-in-1 boards (for embedded cables) as well as a roll of soft WIB (for FOIL installations). Floor insulation will create a thermal break between the subfloor and the finished floor significantly reducing downward heat loss.
3. 2 floor probes are recommended
4. Make sure you have a dedicated breaker with 2 conduits
5. Let thinset or leveler cure
6. Not all products are created equal – be mindful of heat output and warranties – not just length but also straight-forwardness
7. Systems can be DIY friendly with careful review of product manuals, but a licensed electrician will always be required to get the job done.
Tile Same Day With Any Size Tile
Tile is an excellent flooring choice for electric radiant floor heating. You can even install it on the same day you install the heating system, with any size tile.
Hydronic Heated Floor Systems
In a hydronic system, pipes and a boiler are installed beneath the floor. There are lots of moving parts in hydronic systems, so they often require a mechanical engineer to help create and design the system.

How Much Does Radiant Floor Heating Cost?
The cost of heated floors varies greatly and depends on the size of the system and the type of system you choose. On average, expect to pay between $10-$15 per square foot. (Get an instant quote for an electric system here).
There are also installation costs and running costs to consider as well. For example, installation costs around $260-400 per day. The costs of running your radiant floor heating system will vary depending on its size and usage. However, the cost of running a radiant floor heating system is significantly less than most traditional alternatives.
To give you an idea, an average bathroom system utilizes about 300 watts, so for some people, that's just about the same as the lights over the mirror. In dollars and cents, it costs about $5/mo to operate that system in a bathroom for a few hours in the morning and evening.
A whole-house system in a 3,000 sq ft space would run about $250/mo in the winter. The benefits of an electric system is that while electricity is viewed as expensive, the systems can be zoned and programmed and actually make them very cost-effective.
Is Radiant Heating Practical for Commercial Buildings?
Radiant heating isn't just an option for homeowners. In fact, radiant floor systems are an excellent option for commercial buildings. They result in lower operating costs, greater installation flexibility, and offer more efficient, cleaner, and quieter heat.
In addition, radiant heating systems don't require ongoing maintenance, saving even more in costs down the road. All in all, radiant floors are an excellent option for commercial buildings. (You can read more about radiant heating for commercial buildings here).
5 Myths About Radiant Heating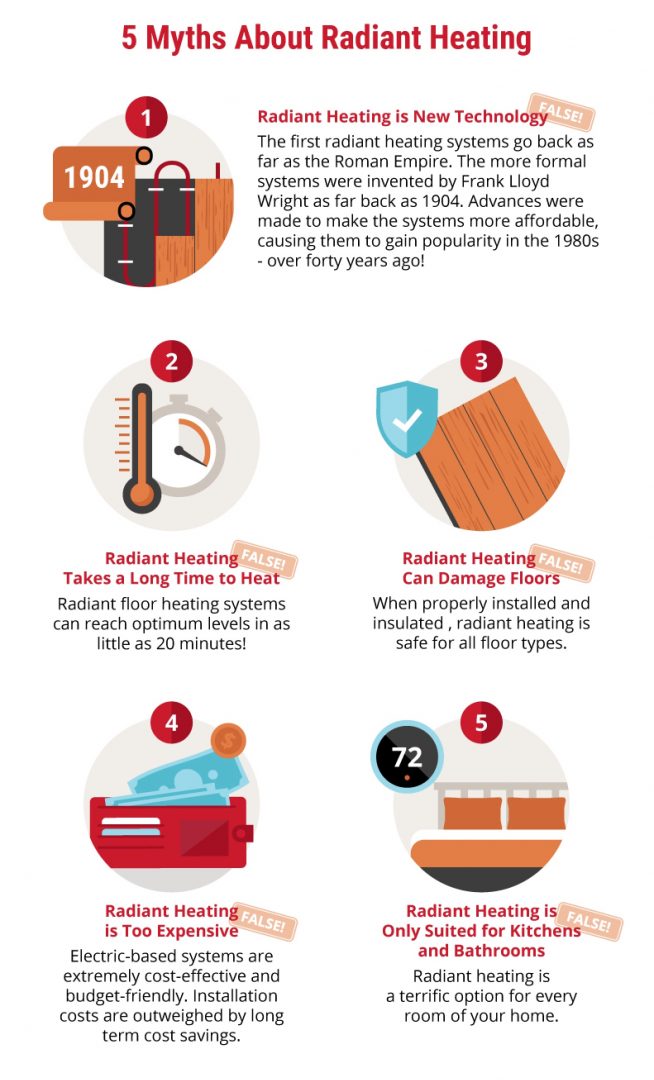 Summary: Are Heated Floors Worth It?
Radiant floor heating is an easy and energy efficient way to warm your home and to keep your toes cozy. Although the cost of installing radiant heating is higher than the installation cost of traditional radiators, there are various options available to suit your budget and it's worth keeping in mind that underfloor heating provides substantial cost savings on your energy bills in the longer term.
When remodeling your bathroom, radiant floor heating is especially worth thinking about. You will save a lot on the labor cost if the flooring is being lifted up and changed anyway. The comfort and the cost savings of running the system on your heating bills will work out to your advantage in a longer run.
> ESTIMATE your underfloor heating RUNNING COST HERE
> VIEW the Warmup electric underfloor heating PRODUCT RANGE HERE