Installing electric floor heating is a great way to add comfort and value to your home. Not only does it keep your feet warm and toasty, but it can also help reduce your energy bills by providing primary or supplemental heat. Commonly installed when a home is being constructed, it is also the perfect heating solution during remodeling.
In this article, we will provide you with seven tips for installing electric floor heating quickly and efficiently.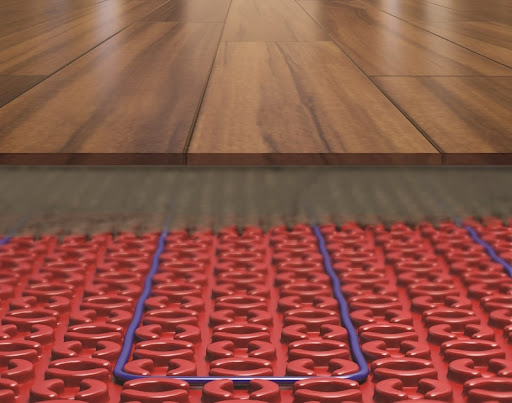 How Does Radiant Floor Heating Work?
Radiant floor heating systems emit heat via thermal radiation. They generate diffused, indirect heat that radiates upward from the floor and penetrates adjacent objects. Through radiation, thermal energy in the air is transferred through electromagnetic waves.
While these waves remain unobstructed, they have potential energy. However, once they hit an obstacle, the energy is converted to heat and transferred to the object in question – whether it be your floors, walls, furniture or even yourself! This is why you tend to feel the heat more quickly and at a lower temperature with radiant heating. There is minimal air flow with this type of heating, which keeps the temperature comfortable and even throughout the room.
Types of Radiant Floor Heating
There are basically two types of radiant floor heating systems, each with their advantages and disadvantages. While both systems can be used in either new construction or remodeling, the type of system you choose depends on various factors, including the size of the space, the climate, and your budget.
Electric Radiant Floor Heating Systems
Electric radiant floor heating systems are becoming an increasingly popular choice for homeowners who want to add a little extra warmth to their homes. Unlike forced-air systems that rely on circulated air to distribute heat, radiant floor heating uses electromagnetic waves to generate heat directly in the flooring material. This type of system is highly efficient and can be used in various settings, including concrete, tile, and laminate floors. In addition, electric radiant floor heating installation is typically much easier than installing a traditional forced-air system. Electric radiant heat is the perfect solution during a remodel, as it requires no plumbing or pumps, and generally adds less than a 1/2″ to the overall floor height.
Hydronic Radiant Floor Heating Systems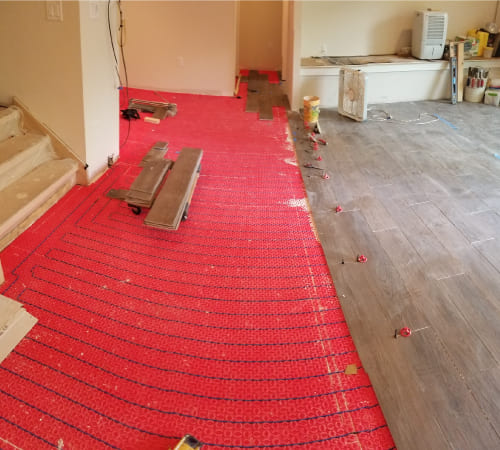 Like electric systems, the basic principle of transferring heat via electromagnetic waves remains the same. The difference is how the heat is produced. Hydronic systems heat water that is then pumped through a series of pipes that heat the flooring, which transmits that heat into the room.
Some consider the hydronic method the most energy efficient, because water is the medium used to transfer the heat instead of a steady stream of electricity. However, the water must be heated in a boiler, then pumped to its final location to be used. Hydronic systems have a few negative aspects:
They are expensive to install – requiring both licensed plumbers and electricians to complete the job.
They are not easily adapted to remodeling due to the floor space required.
You will need a large area for the boiler and pumps, and network connections for the plumbing.
Hydronic radiant heat can be a great option during new construction, when there is easy access to the entire floor area.
7 Tips for Installing Electric Radiant Floor Heating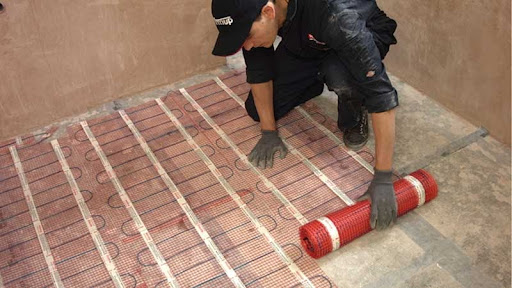 1. Properly Calculate Install Area
Multiply the length of the room times the width to obtain the square footage. Next, measure all cabinets and other objects permanently installed on the floor. Total the square footage of these items and deduct that from the square footage of the room. This is the area that will be heated.
Heat cables and mats should never run under cabinets or other objects with a permanent location on the floor. In addition, the cables in either system should never be cut, as their effective operation is based on the length they are sold in. For a quick quote on what materials you will need to complete the job, use this instant pricing tool.
2. Choose the Correct Insulation
To decrease heat loss and improve heating times, underfloor insulation is essential.
Many insulation solutions also have noise reduction and waterproofing capabilities. Warmup offers two insulation options – an ultralight board that works with most floor finishes, and an insulated underlay for use beneath a foil heating system.
The 4-in-1 Ultralight board is designed from multiple layers containing aluminum, non-woven fleece and PEF insulation. The top and bottom layer of fleece acts as a decoupling barrier, which protects against tile and grout cracking caused by subfloor movement. The layer of aluminum reflects the heat upwards, so it spreads evenly across the floor surface. 
The insulated underlay made by Warmup prevents the escape of heat downwards, making your floor heating system more efficient. The foil backing also serves as a moisture barrier, and should be installed facing down. This product has been specifically designed for use with the Foil Heater and provides an ideal combination for installation of soft floor coverings like carpet or laminate over the heater.
3. Use Multiple Probes
Sensor probes are used to detect the temperature in the room, and should be installed at the same level as the heating elements. This may require you to cut a channel in the sub-flooring to accomplish. In a small bathroom, a single probe, centrally located may be adequate, but in larger rooms, you should install multiple probes so that the system gets an accurate reading for the whole room. Some installers will run the cable for the probes in the same conduit as the main electrical supply, but it is recommended that each probe be run in a separate conduit if it ever needs to be replaced.
4. Dedicated Breaker with 2 Conduits
Your system should be set up on its own dedicated breaker. This will ensure continuous operation even when other circuit breakers trip. Using a separate conduit for the electric lines and the temperature probes provides more flexibility if it becomes necessary to work on the wiring.
5. Let Thin-Set or Leveler Fully Cure
Thin-set is used over mat-type systems and provides the base to install tile and other floor finishes over. Leveler would typically be used beforehand to correct any out-of-level conditions on the floor, before moving forward with the installation. Both of these products should be fully cured before installing the finished flooring over them.
Thin-set takes between 24 and 48 hours to cure, and leveler should be allowed to cure for 12-24 hours before installing the finished floor over it.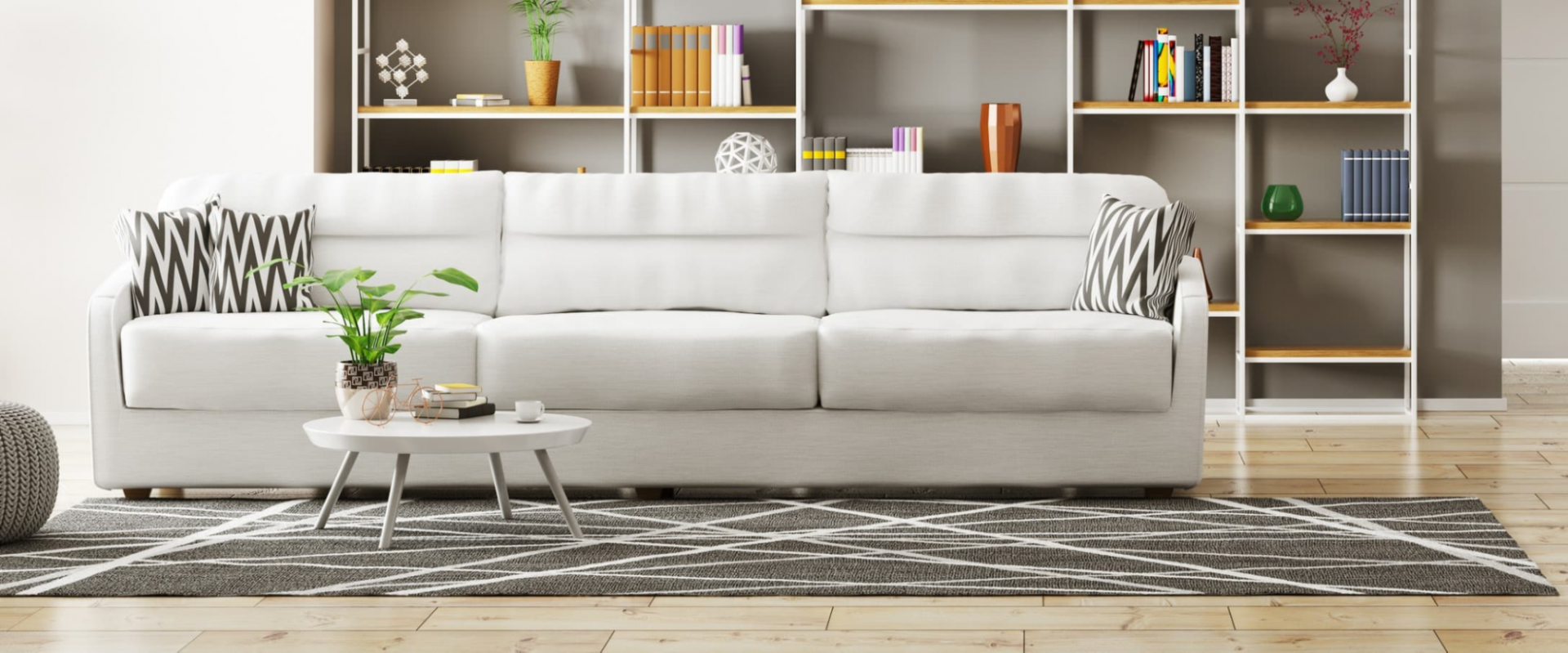 6. Verify Heat and Output Warranties
Before choosing a manufacturer for your electric radiant floor heating system, carefully review the warranty. Make sure the system warranty protects the component level. There may be different warranties for each component in the system, and you need to understand what they are.
For instance, the insulation, the mat, the cable, the probes, and the thermostat will probably each have a separate warranty. If you are having the system installed, does your contractor offer a warranty that covers his work and the components? You need to know before the work starts.
7. Install is DIY-Friendly, but May Require Licensed Electrician to Complete
Installing an electric radiant floor heating system is pretty straightforward. There are numerous online videos and written instructions to guide you through the process, making this an easy DIY project for the seasoned handyperson. However, the electrical connections should be handled by a licensed electrician in order to ensure the proper operation of your system, as well as the safety of those in the home.
Work with the Best Radiant Floor Heating from Warmup