Are you thinking about installing an underfloor heating system in your home or business? If so, you're probably wondering about underfloor heating maintenance. For instance, if you get underfloor heating, will it require regular servicing?
It's a common concern and question and one that deserves a thorough answer. The reality is that the answer to this question depends on the type of underfloor heating you have installed.
Let's look at what kind of ongoing maintenance and servicing is required for underfloor heating systems so you can make the best decision for you.
Types of Underfloor Heating
There are two types of underfloor heating systems. They are electric radiant heating or water-based heating. Before we discuss underfloor heating servicing, it's important to understand how these two types of floors work.  
Electric Radiant Heating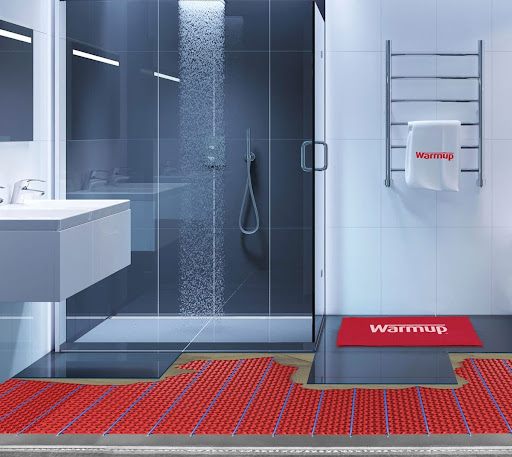 As the name suggests, electric underfloor heating systems work with electricity. There are two basic types of electric systems. They're either a heated mat or a cable-based system; both systems work by converting electric energy into radiant warmth.
Heating mats have electric heating wires pre-attached so that they can be rolled out and attached to the subfloor. With cables, it's more of a free-form application because the wires can be installed onto or into the subfloor.
Water-Based Heating
Water-based heating systems are sometimes also referred to as wet floor heating or hydronic underfloor heating. These systems work by pumping heated water through underfloor heating pipes (also called circuits), which are laid on or within subfloors, and the water is heated using a heat pump or a broiler.  
Does Underfloor Heating Need to Be Serviced?
Does an underfloor heating system need to be serviced? Well, it depends on whether you have an electric heating system or a water-based system.
Electric radiant heating systems do not generally need any ongoing maintenance or servicing. Once installed by a professional, they should not require frequent servicing, making them a hassle-free, underfloor heating option.
On the other hand, wet floor heating systems require occasional maintenance and check-ins to ensure that everything is working properly. In the case of wet-based systems, there will be a bit of ongoing underfloor heating maintenance.
How to Service Water-Based Underfloor Heating
If you're considering water-based underfloor heating or already have it, here are the basic steps to ensure it's working optimally. Keep in mind that servicing should only be performed by professionals.  
Check System Pressure
First, it's essential to check the system pressure. You have to use the pressure gauge, which is located on the manifold's flow bar. (The pressure should fall between 1-2 bars.)  
Analyze Water Color
Next, you need to check the water's color. A little bit of water discoloration is okay. However, if the water is dirty or really discolored, it's important to flush the system. Once the system has been flushed, you should re-dose it with an inhibitor.
Remove Excess Air
You can probably skip this step if you have an automatic air vent. Otherwise, you need to make sure that there's no extra air in the system. To remove the excess air, you can use the air vent located on top of the manifold.
Check Boiler Performance and Activation
Finally, you want to make sure that the boiler is working appropriately. The system should be independently firing the boiler. To check that everything is working, make sure all the boiler's demands are stopped, and then activate one zone of UFH. You can do this by spinning the thermostat upright. This should activate the pump, the relevant actuator valve, the boiler, and the zone valve. If it doesn't, then something isn't working appropriately.
If any issues arise from running these maintenance checks, then a repair might be in order. Implementing a regular maintenance sequence will help you catch any problems early before they become huge problems down the road.
For No Maintenance Heating, Choose Electric Radiant Floor Heating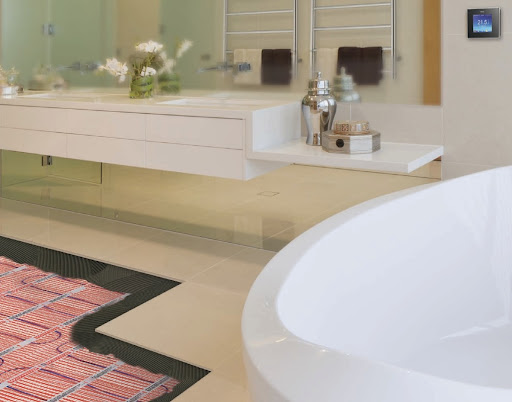 Ultimately, if you have a wet system, it will need regular maintenance. Routine check-ins help ensure the system continues to work as it is supposed to work.
Conversely, if you go with an electric radiant floor heating system, you can enjoy no maintenance heating for years to come. If you're looking for an underfloor heating system that won't require ongoing maintenance, the choice is clear. Electric radiant floor heating is the way to go.
It's important to note that in rare cases, cables can fail due to installation errors. At Warmup, we provide free tool rental and support to help you find and repair the issue, while removing as little floor as possible in the process.  
We specialize in high-quality electric radiant floor heating. Our industry-leading warranties and accreditations make us a top choice for companies around the globe.
Contact us now for a free quote or speak with our customer service team to find the perfect underfloor heating solution for your project.