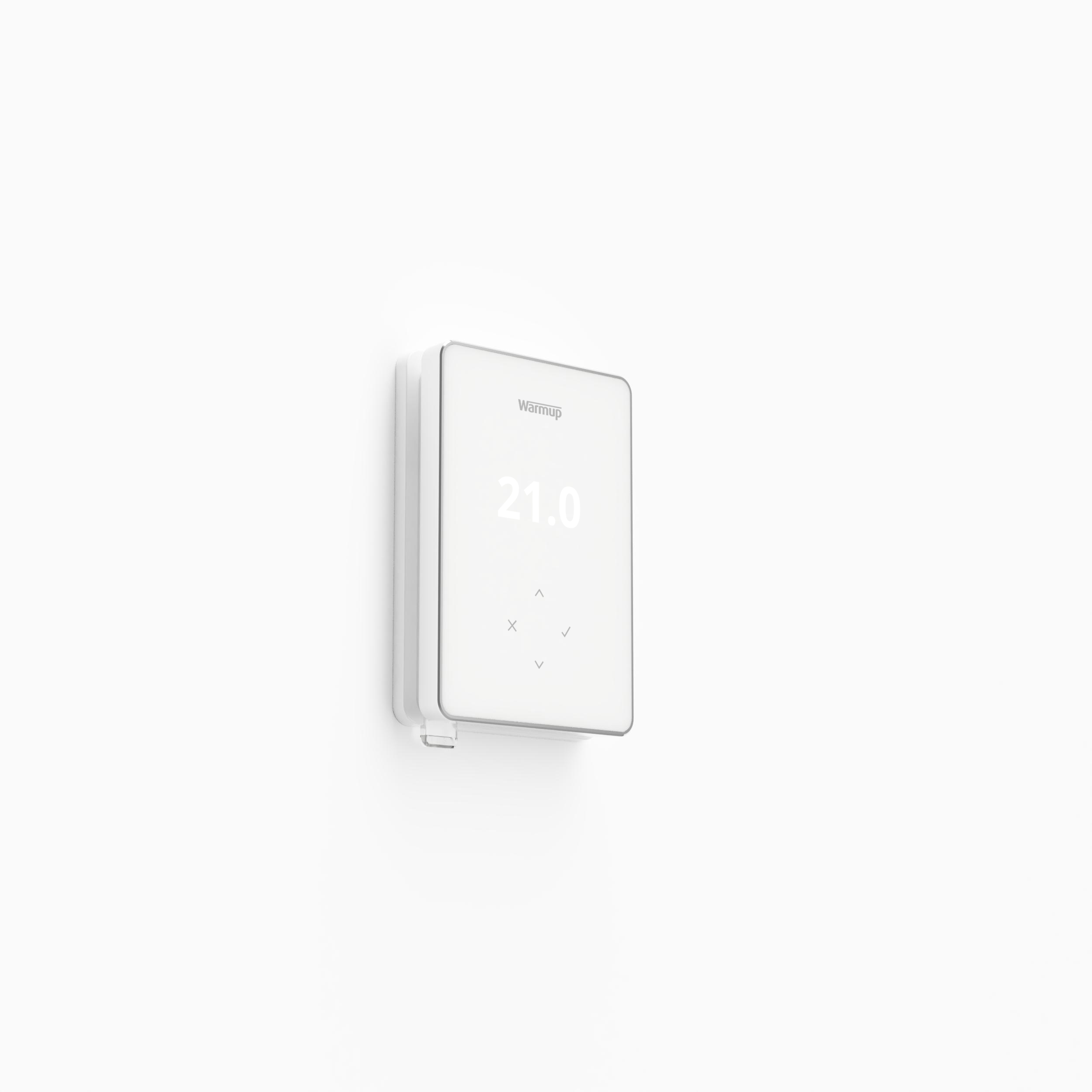 Stylish Design, Intuitive Control
The Terra WiFi thermostat is the perfect way to introduce the benefits of energy efficient smart underfloor heating control to your home while complimenting your interior style.
Featuring touch buttons and a simple display for accurate management of your home's floor heating, the Terra offers true ease of use – simply scroll and tap to change the temperature. Its sleek, unobtrusive design will suit any home decor.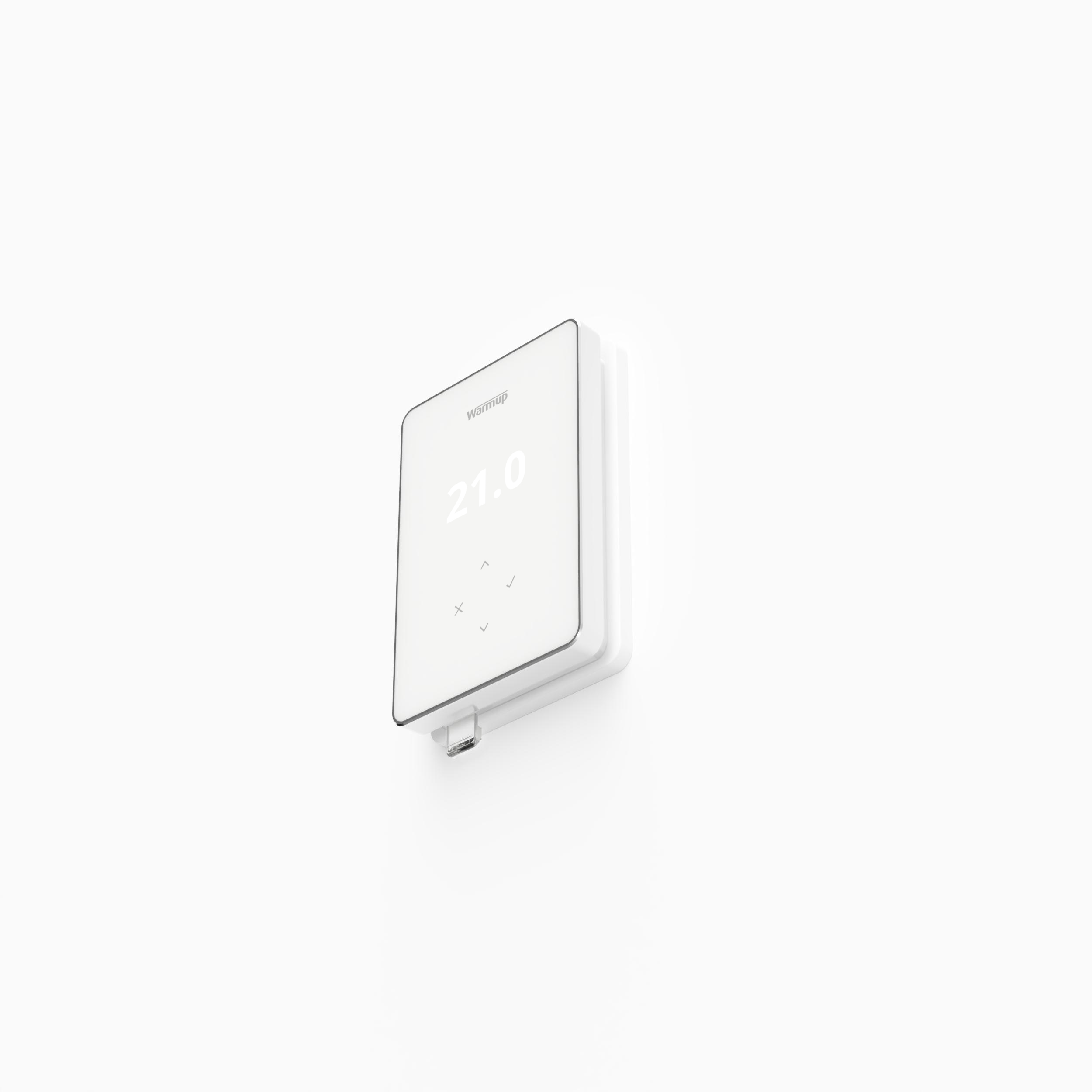 Energy-Saving Technology
The Terra utilities SmartGeo technology to learn your routines – offering radiant warmth at the right temperature, at the right time for you, automatically.
Use the free MyHeating app for iOS and Android to control your heating and view your energy usage and costs. Using the Terra with the MyHeating app can help reduce energy usage and CO2 emissions by up to 25%.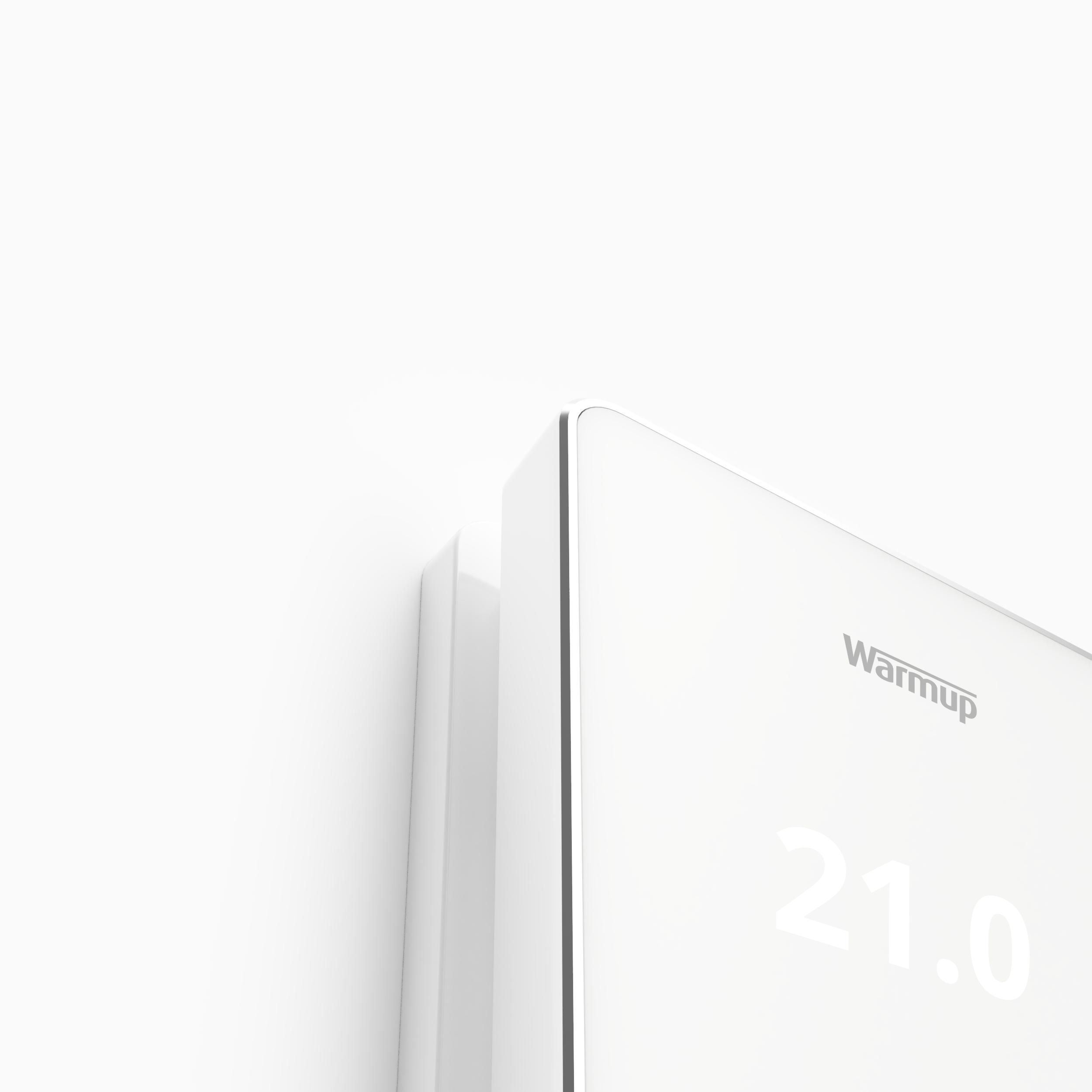 Beautiful Looks, Built to last
The Terra WiFi thermostat combines Warmup's industry leading build quality and support with an elegant design, perfect for projects where style and performance are a priority.
The translucent frosted Light fascia absorbs ambient colors to blend perfectly with walls and the polished rose-gold tone accents bring subtle warmth and brightness.
The Terra WiFI Thermostat matches the size of standard light switches to become a cohesive addition to your interior design. The minimalist display makes interaction intuitive, with simple up and down controls for temperature and an icon-based interface suitable for users in any language.

Works with the Warmup Smart Family
The Terra WiFi thermostat can be used alongside the 6iE WiFi thermostat, all through the same MyHeating app. This means you can enjoy the large, full color touch screen of the 6iE in one zone and benefit from the simpler design of the Terra in another zone, without sacrificing functionality. The MyHeating app makes it easy to control all of your zones from one screen and combines data from all your Warmup Smart thermostats to give a whole-house view of your energy usage and settings.
Find out more about the 6iE here.
Technical Information
Technical specifications

Operating voltage

110V – 240V AC +/-15%




50Hz/60Hz

Maximum load

15A resistive




(120 V – 1800W,




240 V – 3600W)

Max. ambient temperature

40°C / 104°F (T40

Dimensions
3 1/8″ x 4 1/2″ x 7/8″ (from the wall)
Screen size
1 3/4″
Sensors
air and floor
Floor sensor type

NTC10K @ 25°C

IP rating

IP30

Standards

UL-60730-1




UL-60730-2-9




UL-943




CAN/CSA-E60730-1




CAN/CSA-E60730-2-9




CAN/CSA-C22.2 No. 144.1




FCC 47 CFR Part 15, ICES-003

Warranty
12 years when installed together with a Warmup heating system (3 years with other systems)



Compatibility

The Terra is compatible with Electric Floor Heating and Baseboard Heating



Technical documentation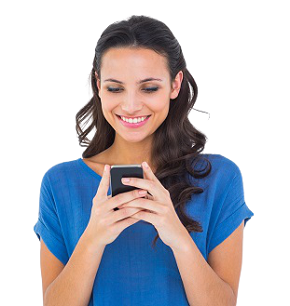 Get a Free Instant Quote Today
Transform the way you heat your home with Warmup, the world's best-selling floor heating brand.