How It Works
We know that sometimes you need help when buying a new heating system. We also know the typical questions people ask when they are thinking about getting underfloor heating, so we have put together this buying guide to help you.
Whether you are looking to get a whole-house heating system or heat a single room, our guide tells you how underfloor heating works and how the system can help you to stay warm when it gets chilly.
---
How Floor Heating Works?
Radiant floor heating systems produce heat through thermal radiation. By heating the floor rather than the surrounding air, they provide indirect, diffused heat that radiates from the floor up. This heat is absorbed by surrounding objects, and they in turn help to warm the entire room. Radiation transmits thermal energy in the air through electromagnetic waves. These waves contain potential energy for as long as they remain unobstructed. Once they hit an obstacle, they release their energy in the form of heat through the material, in this case, your floors, walls, furniture and even yourself! You, therefore, feel the direct radiant heat as well as a uniform heat, even when the surrounding air temperature is low.
With radiant heat, comfort tends to be felt sooner and at a lower temperature. There is minimal air flow, keeping the temperature comfortable and even, everywhere in the room.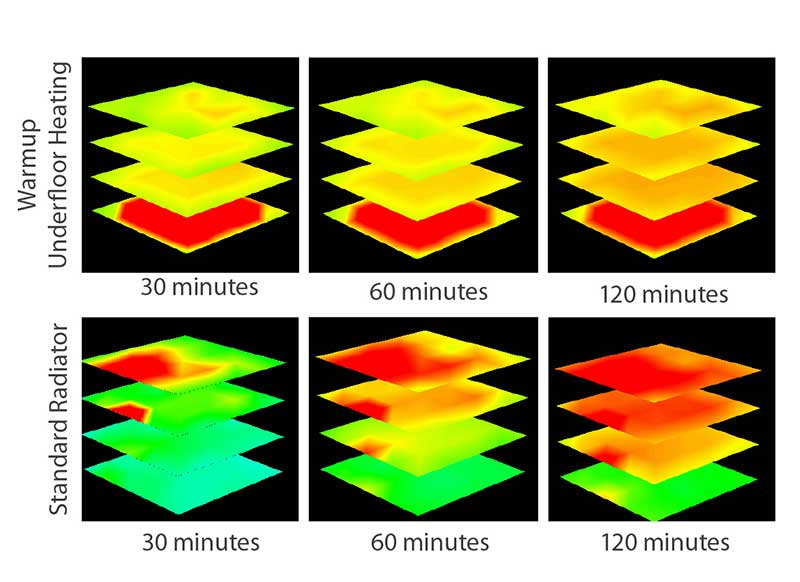 ---
Will Underfloor Heating Heat My Room?
Electric underfloor heating comes in different heat outputs, with a higher wattage available in order to provide enough heat for high heat loss areas such as sunrooms.
Wet underfloor heating systems usually generate 104°F (40°C) to 149°F (65°C) degree temperatures, and the actual floor temperature will be on average 73°F (23°C) to 90°F (32°C) degrees, meaning that for a high heat loss area, the temperature can be adjusted to provide a sufficient level of comfort.
The heat output of an underfloor heating system needs to be greater than the heat loss of the room or area it is heating in order for the system to provide enough heat. So it is important to conduct a heat loss calculation to ensure that the system is suitable. This can be conducted by an architect or a heating engineer and will help you to choose the correct heat output for the underfloor heating system. If you are unsure of the heat loss, contact us and we will help you to choose the correct system.
It is also advisable to install the system with sufficient insulation, such as insulation boards, which reduce the heat-up time by pushing the heat to the floor level and preventing heat loss to the sub-floor.
---
Electric and Water Based Systems
There are two types of systems available: electric and warm water based underfloor heating. The former utilises electricity to heat a very thin wire, and the latter uses warm water which circulates through the heating pipe.
The suitability of each system depends on your project and preference. The electric system may be better for small areas such as bathrooms and renovations as it does not raise floor levels. Wet systems are ideal for larger areas or new constructions as they are fitted into the structural sub-floor.
---
Costs Associated with the System
There is a variety of systems available and the underfloor heating costs depend on the running time, heat output, the size of the heated area, and the system type. You will also need a thermostat to control the system which is sold separately to the heating system. To find out the cost of purchasing a system, get a quote and we will come back to you with a detailed quote to meet your requirements.
The running costs are linked to energy prices, room size and height, and running time. Using a smart thermostat, such as the Warmup 4iE Smart WiFi Thermostat can save you money. The 4iE can save up to 25% on energy usage by suggesting smarter ways to heat your home.
We can provide you accurate running cost information to better understand the underfloor heating costs. Simply fill in the details for an underfloor heating running cost calculation.
---
What to Look For?
Warranties
Even though underfloor heating is known for its reliability once the system has been installed, it is important to make sure your system is covered with appropriate warranties.
Should something go wrong during the installation and the heater get damaged, it is invaluable to be able to get a new system to replace the damaged one. We offer a SAFETY Net™ Installation-Guarantee on all Warmup electric systems. If you or your installer accidentally damage the heating system during installation, return it to Warmup and we will replace it with another heater of the same make and model free.
Additionally, we give a Lifetime Warranty for Warmup DCM-PRO Cable and StickyMat underfloor heating systems.
Support
Even though it is unlikely that you will experience problems with your system after it has been fitted to the floor, you should check that support is available if needed.
Whether it is support for installers when on site, assistance setting up a thermostat, or help using the system, a 24/7 all year-round support will provide peace of mind. This is something we offer to all our customers, we are able to assist at any time of the day, and any time of the year on +1 (888) 592-7687 should there be any problem.
---
Installation
The system can be fitted by a competent DIY person, but you can also get a professional installer to fit the system for you. All electrical work, including wiring and connecting the thermostat to the heating system, needs to be completed by a certified electrician.
---
Underfloor Heating Essentials

Your Guide to Buying Insulation
The insulation improves response time and heat retention within the room, reducing energy consumption and carbon emissions.
View Insulation

Why You Need a Smart Thermostat!
Manual and programmable thermostats are ugly, they are also confusing and waste energy. Get a smart thermostat this year and save a polar bear.
View Thermostats