Home / Preparing for your project / Relay-25
Can I Install the Relay-25 in the Same Electrical Box with my Thermostat?
Relay-25
Warmup's Recommended Installation for Relay-25
Warmup strongly recommends installing the relay in a separate single gang box to avoid overheating and interference of other cables.
For specific installation requirements, check with your electrician and refer to your local code.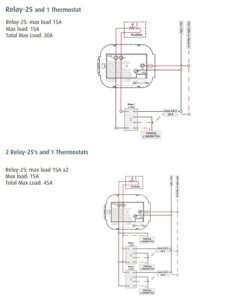 The Relay-25 fits in a standard single gang box. It is used in conjunction with the 4iE® Smart thermostat series as well as the Tempo thermostat.
Also, it is specifically designed for large applications up to 800 square feet to expand the original 15 amp capacity.
Built for quiet operation, the relay is mounted in an adjacent closet or in a space above or below. It connects to the 4iE® Smart thermostat via a 240V coil on the relay.
For more information, please refer to the installation manual.