Home / Preparing for your project / Snow Melting Mat – WSMM
What is the best way to lay asphalt over a Heated Driveway?
Snow Melting Mat – WSMM
Warmup does NOT recommend the use of a track application machine unless it is a pneumatic tire version of the mechanical asphalt spreader.
Rubber tire applicators are acceptable as long as the pavement is below 464 degrees F.
When pouring asphalt directly on cables, be sure it doesn't maintain a temperature of 464 degrees F for longer than 10 minutes.
Do not encapsulate the joint until the pavement temperature is 212 degrees F or less.
Rollers cannot exceed a weight of 1 ton. Warmup recommends using hand rollers as shown below.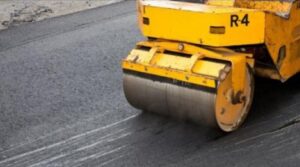 In addition, use the hand roller perpendicular to the cable. For more installation help, please refer to the installation manual.