Off-Grid Living like You've Never Seen Before – AB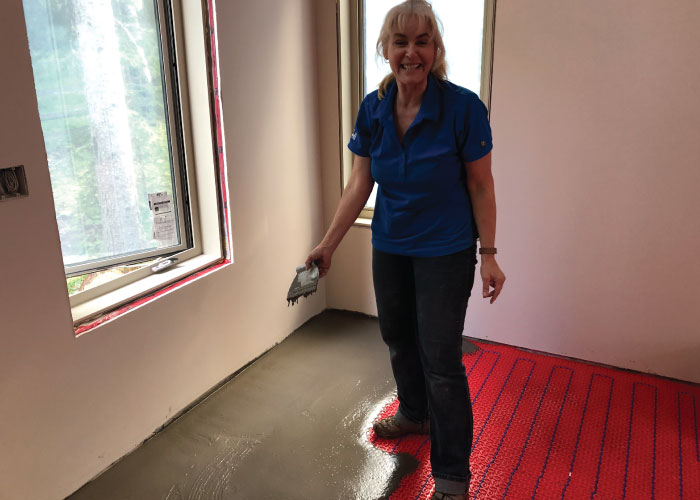 Off-Grid Living like You've Never Seen Before
◩ Project type
Residential
◩ Project location
Water Valley, AB
◩ System specifications
→ DCM-PRO heating cable
→ DCM-PRO fleece-back membrane
→ WODH heating cable
→ 4iE Energy Monitoring Thermostats
→ $0/mo thanks to renewable energy
◩ Client
Leone is an inspiring homeowner who does thorough research before tackling most projects on her own.
◩ Heating system
Uncoupling and in-slab systems
◩ Project size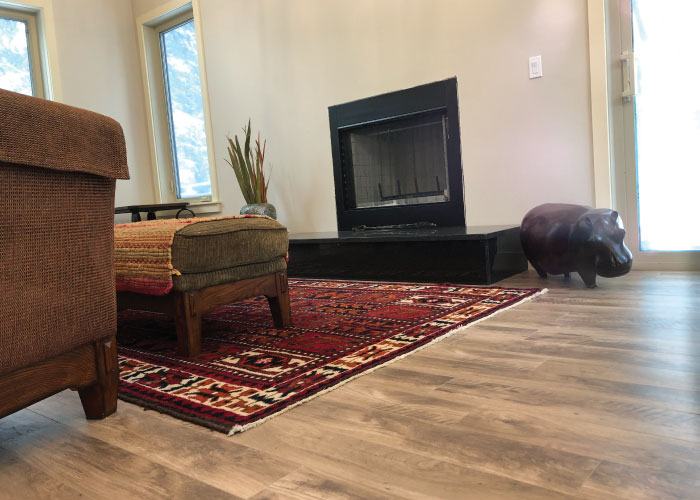 The Challenge
Amongst the trees in the scenic Alberta foothills Leone started a home build project off-grid on a beloved piece of property. Surrounded by nature alone, Leone was inspired to invest in a sustainable home that would have no monthly expenses – a large undertaking, especially in the chosen areas climate. While there were skeptics, Leone only gained confidence to complete the project through extensive research.
The Solution
To achieve a full off-grid set-up, a well was utilized and electric heat was decided upon for a 1,600 sf structure. Electric heat was chosen because of its ability to run off of solar or wind power but many friends and family members feared Leone would regret this decision in an area that commonly reached -35°C in the winter. Because Leone did not want to bring a permanent gas line to the property in a world of evolving renewable energy options, she pressed on with electric heat. With major decisions made, a solution was forming. The next step was for Leone to face a wide range of electric heating options with a crowd of skeptics growing louder with their chant for a furnace. In a world unknown to her, Leone searched for an efficient heating solution she believed in. Warmup was pleased to speak with Leone and learn more about her new home build. From her initial quote request, a dedicated representative worked with her to determine the products she would need to get the job done right. With the right price and research to support its proven success, underfloor heating was decided upon as the efficient heating solution that Leone was searching for. Since the system would ultimately run on renewable energy, it was necessary to consider offsetting the wattage of the system. The exciting bit about radiant heating in this situation was that the system would ultimately be on less than the other electric systems she considered and "work" while it was off thanks to thermal storage. When Warmup was compared to other manufacturers Leone reported, "To me, a heating wire is a heating wire. I chose Warmup because I was able to work with one person who cared about my project."
The Result
Inside Leone's finished 1,600 sf home you would not expect that you are off-grid. The beautiful brand new home features 3 finished heated floor types: polished concrete, laminate, and tile. To heat under these flooring types two different systems were utilized, an in-slab cable for the polished concrete floors in the basement and DCM-PRO under laminate and tile on the main floor and upstairs. While Leone candidly says she wishes she tiled throughout the home and zoned with more thermostats, she is overall very impressed with the systems' ability to heat her entire home and very happy with the decision she made to trust underfloor heating. With several -20°C days behind her, Leone is calling her friends and family who were skeptics to rave about the luxurious comfort in her home that a furnace could have never delivered. Technology has brought off-grid living a long way and we can not get enough of the inspiring home builders who are taking full advantage. Are you interested in living off-grid? Read about off-grid living on wheels in our tiny house case study.
Product information
Find out more about the UFH products used in this project.
Have any questions about Warmup?
If you're interested in specifying floor heating in your next project, get in touch with us today.
Related Projects
Discover more inspirational projects from around the world