Out with the Old, In with the New: A Condo Remodel on Lake Ontario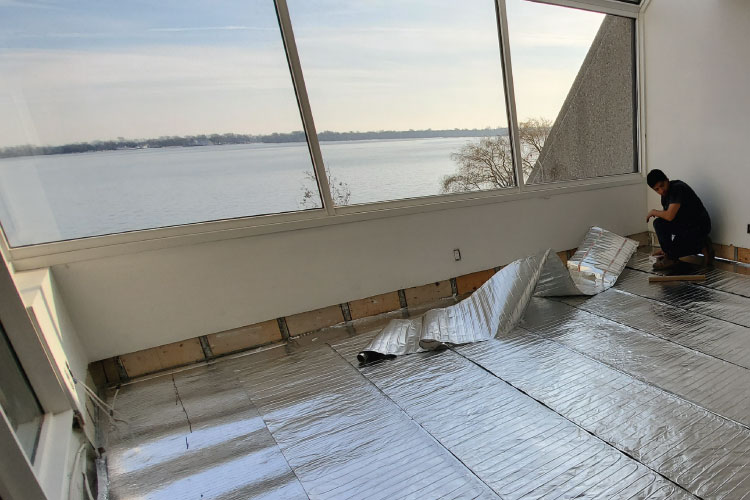 Out with the Old, In with the New: A Condo Remodel on Lake Ontario
◩ Project type
Residential
◩ Project location
Toronto, ON
◩ System specifications
→ DCM-PRO heating cable
→ DCM-PRO fleece-back membrane
→ FOIL heaters
→ WIU insulation
→ WIB insulation
→ 4iE Energy Monitoring Thermostats
◩ Client
Anne and William:- Anne and William love the downtown Toronto area, especially Lake Ontario.
◩ Heating system
Uncoupling and FOIL systems with insulation
◩ Project size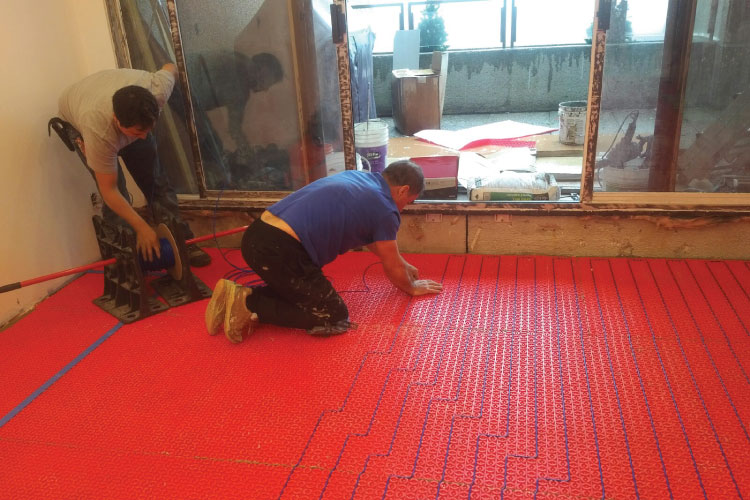 The Challenge
There are many reasons why people do not say that buying a house is easy. The process of finding the perfect home, within your budget, and in your ideal location can take months and it's never guaranteed that the home you find will be move-in-ready. If you are navigating the home-buying process, here is a story to keep you focused on the light at the end of the tunnel.

Anne and William set out to find a home in downtown Toronto on Lake Ontario large enough for their family. The lengthy process led them to a 2,800 square foot condo with uninterrupted lake views that they could not resist. The only issue with the property was that the 40-year-old unit was still mostly original and would require more work than other homes they were considering. Anne and William found a silver lining to renovating and placed an offer on the condo. The couple was excited at the idea of making the space their own and as demolition took place the couple planned a new design that was modern and streamlined. As condo owners, the decisions that Anne and William made were overseen by the condo association. As an added step, many major changes in their unit were subject to review. Some changes, like ripping out the unit's baseboard heat, did prove to be more complicated than anticipated but a challenge that the couple was willing to take on for the sake of their design.
The Solution
To gain approval to replace the units baseboard heat Anne and William had a heat loss calculation performed on their new home. With a heat loss calculation in-hand the couple reached out to Warmup to specify underfloor heating for their home because they loved the idea that the system would be out of sight. When speaking with Warmup, Anne and William stressed that they needed a system that would deliver primary heat more efficiently than their current baseboard heating. This stance was of utmost importance to gain approval because in this particular condo complex there is a set electricity fee per unit. To ensure that these fees are not driven up year-to-year the association is responsible for monitoring electricity consumption and like most, they were hesitant of underfloor heating costs and its ability to heat an entire space. Warmup specified the FOIL system and the DCM-PRO system for Anne and William's home. Under laminate, the FOIL system was recommended to be sandwiched between WIU soft insulation and the finished flooring without the use of thinset or leveler. In tiled areas, the DCM-PRO system was installed over insulation boards with the ability to tile the same-day.
The Result
After the condo association took a close look at the heat output of the Warmup systems specified and the estimated running costs, approval was granted to replace the units baseboard heating with underfloor heating. At 12 watts per square foot under laminate and 13 watts per square foot under tile, the system was predicted to perform much more efficiently than the 40-year-old baseboard heaters thanks to thermal mass and even heat distribution across the room versus single location baseboard heat. Even heating has not only made Anne and William home heating more efficient and comfortable but it also solved another problem to their surprise – condensation that once filled their windows no longer exists. Even heating across their home has off-set the heat loss created by their windows enough to prevent condensation, keeping the view that they fell in love with clear and condensation-free. Anne and William 's completed remodel has left them feeling very at-home. Surrounded by design decisions of their own and sweeping lake views, the couple is very grateful that they invested their time and money into a space that once wasn't so perfect. Are you taking on a remodel? Get a quote so that you can consider underfloor heating before it's too late! We'll be happy to help every step of the way.
Product information
Find out more about the UFH products used in this project.
Have any questions about Warmup?
If you're interested in specifying floor heating in your next project, get in touch with us today.
Related Projects
Discover more inspirational projects from around the world