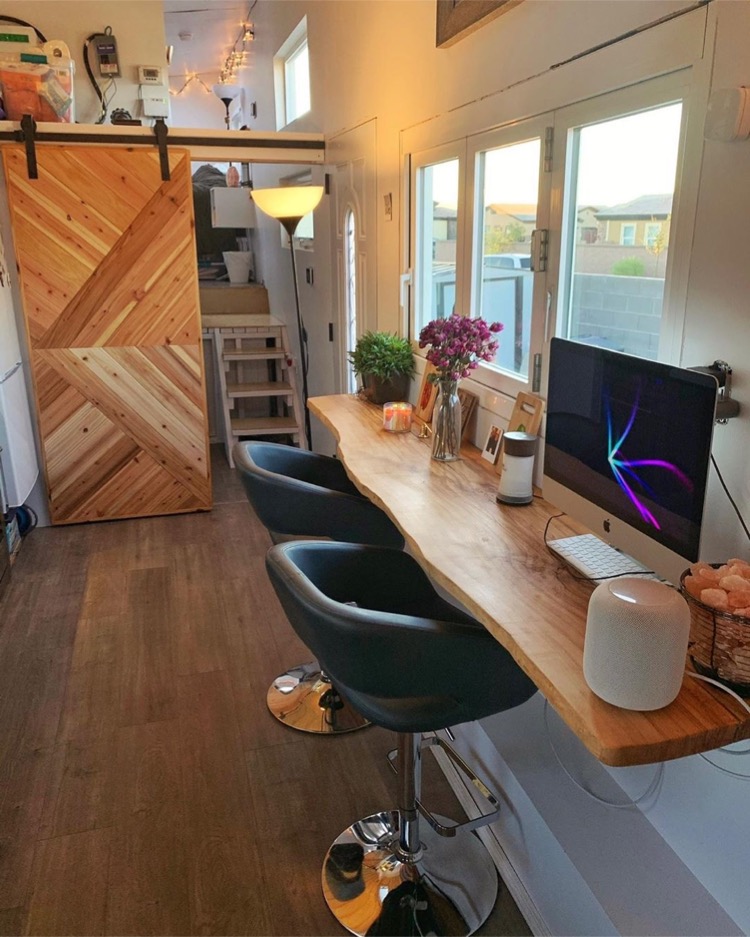 The Most High-Tech Tiny Home in America – Built to Travel Anywhere
◩ Client
Nevada natives Mario and Ciarra wouldn't trade their tiny house lifestyle for anything. The couple is currently living in their second tiny house on wheels.
◩ Heating system
DCM-PRO and Towel Warmer
◩ Project size
Tiny House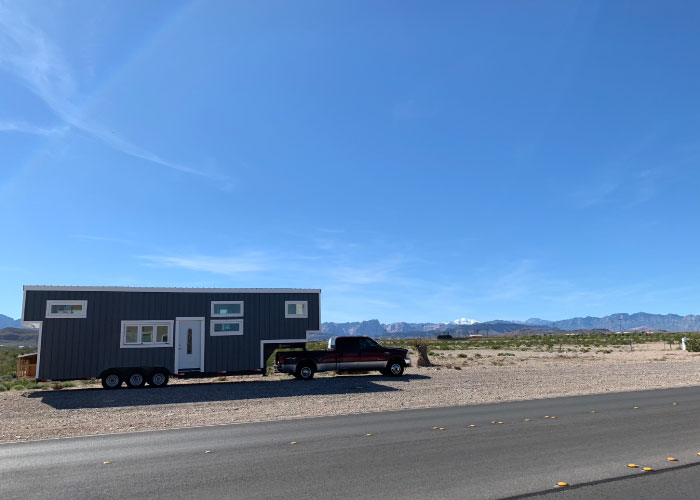 The Challenge
Tiny house living is not for everyone. Challenges that arise can be common for someone unprepared for the experience. On the contrary, others are well equipped to take on downsizing and even off-grid living. When Warmup was approached by Mario and Ciarra they were beginning their second tiny house build. Warmup was excited to connect with the couple and eager to learn about the challenges of constructing a tiny home on wheels and how our products could, or could not, fit into such a "small" project. On Las Vegas soil, Mario and Ciarra planned and constructed the most high-tech tiny home in America, a space they are proud to call home. Since the couple planned to put the home on wheels and take full advantage of them from coast to coast, they knew that they needed a dependable primary heat source that would work, even off-grid. The couple very quickly started entertaining the thought of underfloor heating because of the space-saving benefits. Two obstacles they recognized early on with underfloor heating was sufficient heat output and the possible negative impact of subfloor movement on the heating system.
The Solution
After considering all types of systems and brands of underfloor heating, Warmup's DCM-PRO system was decided upon and installed throughout. The DCM-PRO system paired perfectly with this project because of its ability to function as a primary heat source while also offering uncoupling, anti-fracture benefits. More simply put, the membrane installed from Warmup will, as needed, detach from the subfloor. This technology has been introduced to prevent damage to the heating system and flooring that otherwise could be caused by sub-floor movement. Since the couple has every intention of moving their sub-floor, in one of the most dramatic ways we've yet to see, the product came highly recommended. Other DCM-PRO benefits that the couple loved were installation ease and low amperage draw. For these DIY-ers, peeling, sticking, and clicking the cable into place was a dream come true as well as the ability to easily use the system with their solar/battery set-up. In addition to the underfloor heating system, Mario and Ciarra also opted to add a towel warmer to their home. The luxurious benefits of a nice warm towel were surprisingly just that – benefits. With only a small washer and dryer combo in their home, Mario and Ciarra were very attracted to the fact that the towel warmer could cut down on dirty laundry. The TW082 installed delivers heat that will keep towels fresh and cut down on the need to launder them so frequently.
The Result
After months of constructing themselves, Mario and Ciarra are finishing up and getting ready to hit the open road. Their home features the DCM-PRO underflooring heating system throughout connected to 4iE Smart WiFi thermostats, a TW082 towel warmer, full-size bathtub, complete solar set-up, and much more. While living tiny is not for everyone, Mario and Ciarra wouldn't trade it for anything because for them, having fewer belongings means seeing more of the world, even the coldest places! Interested in learning more about tiny homes? Read our blog and follow along with Mario and Ciarra's adventures on Instagram @limechili777.
Product information
Find out more about the UFH products used in this project.
Have any questions about Warmup?
If you're interested in specifying floor heating in your next project, get in touch with us today.
Related Projects
Discover more inspirational projects from around the world