Dramatic 1875 Cabin Flip – ON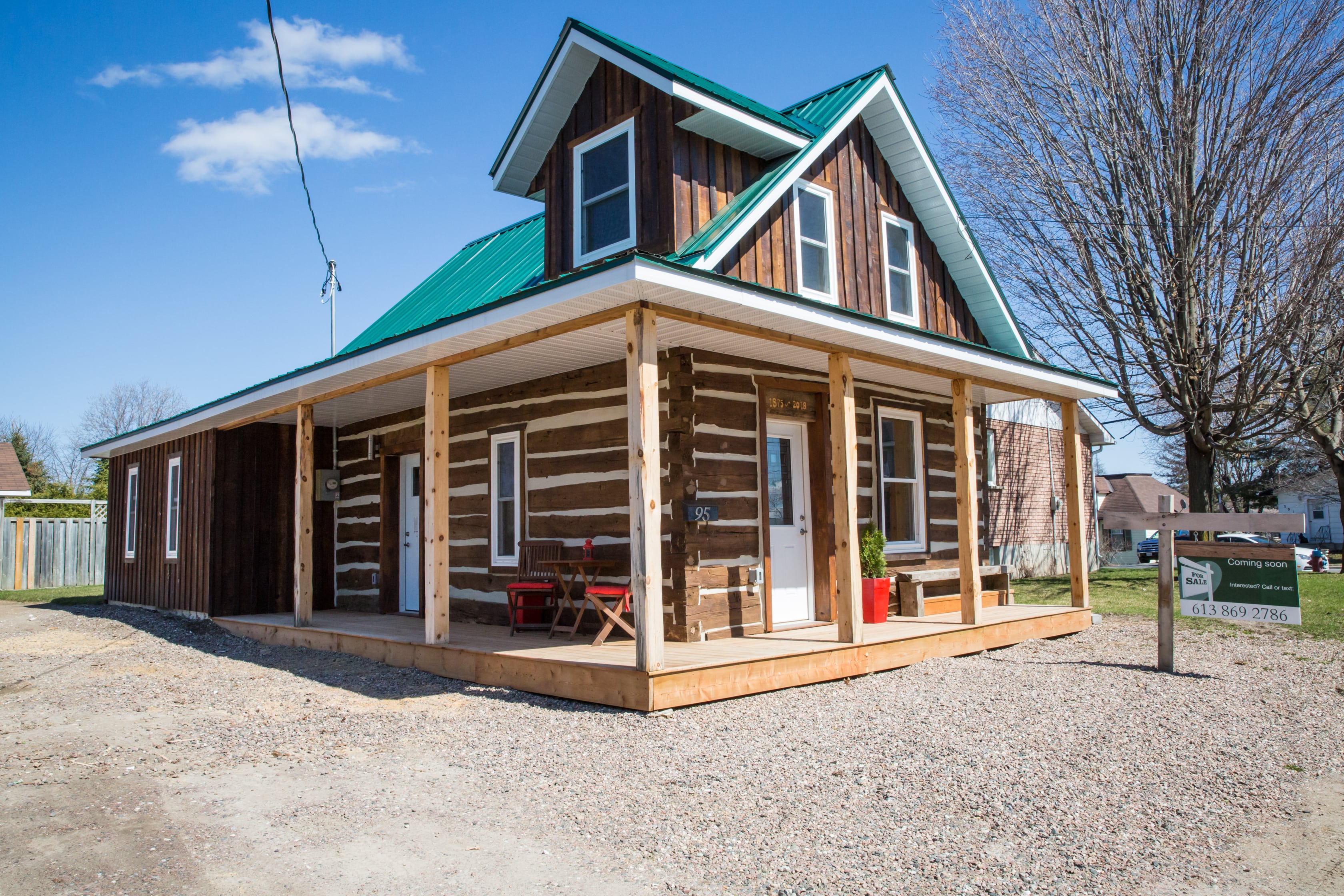 Dramatic 1875 Cabin Flip Renfrew, ON
◩ Project type
Residential
◩ Project location
95 June Street, Renfrew, ON
◩ System specifications
> DCM-PRO uncoupling membrane and cable: The only UL approved membrane heating system
> Heated FOIL: 240V, 1.8mm thick cable, advanced fluoropolymer cable coating
> Insulation Boards: 1/4″ thick backer board to reduce heat-up times
> Insulated Underlay: A soft insulation layer to reduce heat-up times
> 4iE® Smart WiFi Thermostat: programmable, 15A, Intuitive, Efficient
◩ Client
Jack Gougeon & Katrin Bachmann:- Jack, born and raised in Canada, in construction business and contractor for over 25 years, "The Tradition keeper". Katrin, German Engineer, this is her first project in Canada, "The Innovator".
◩ Heating system
Warmup DCM-PRO and insulation boards under the tile. Heating FOIL and soft insulation under laminate. All connected to 4iE® Smart WiFi Thermostats.
◩ Project size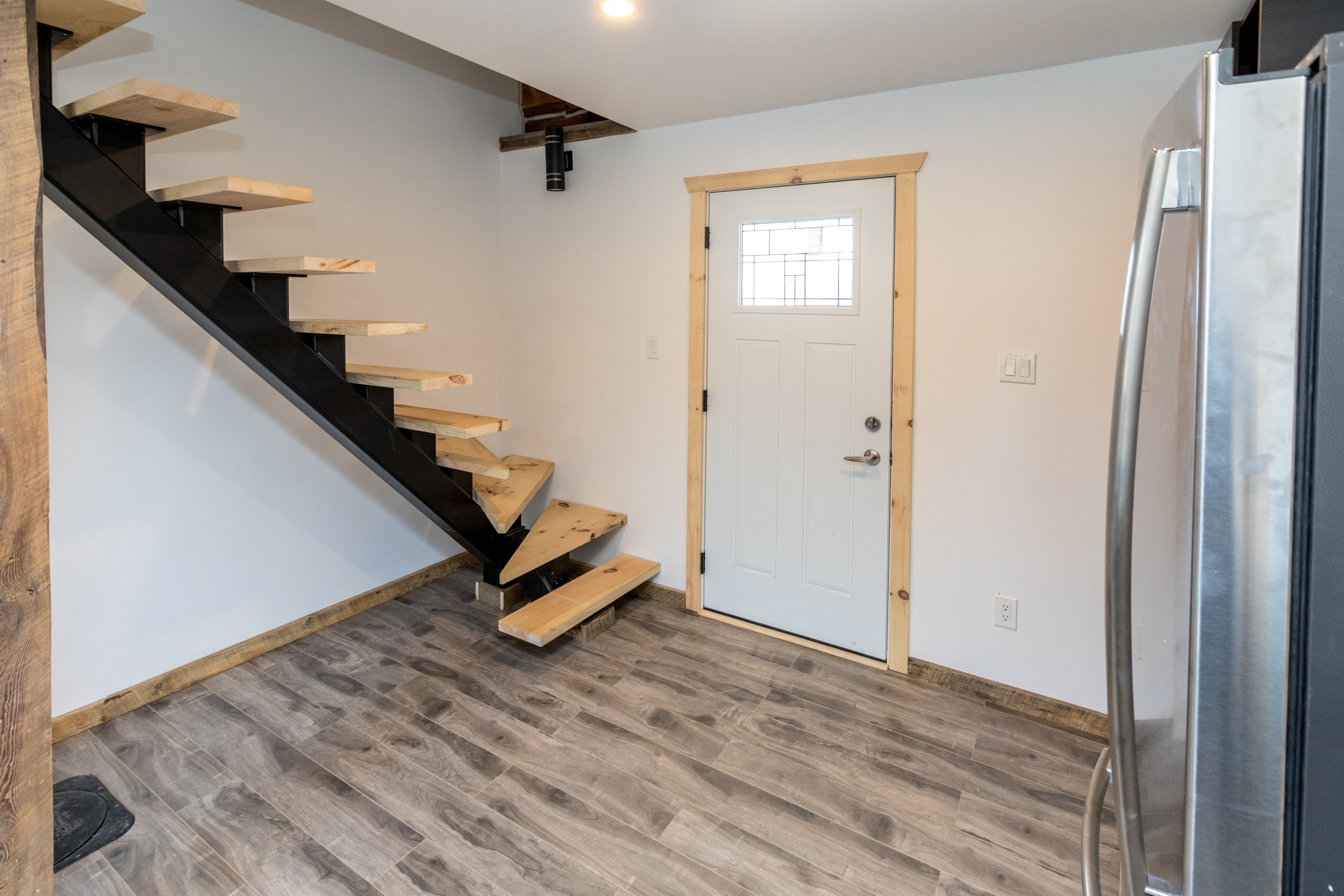 The Challenge
Any structure from 1875 poses a challenge for the person looking to restore it. Luckily, there are people out there like Jack & Katrin who take on these projects to restore History. After purchasing an 1875 cabin, Jack & Katrin set out to find renovation and building materials that could bring the structure into the 21st century and well into many more. Katrin contacted Warmup during the very early phases of planning to explore radiant floor heating options throughout the cabin as a unique feature that would make the property stand out. Along the way, foundation permit challenges caused unforeseen project delays. This was challenging because Jack & Katrin took this project on as a house "flip". The main project goal was to restore the home quickly and re-list it for a profit. Delays were a threat to their project because every passing day cut into the profit of the total project. Jack & Katrin wanted to move as quickly as possible to get the project completed and the home re-listed to maximize her chances of a large return on her investment.
The Solution
Once permitted to do so, total demolition and reconstruction took place. An addition was added to the original structure to increase the homes total square footage and everything was replaced. These changes spanned from October to May of the following year. Warmup underfloor heating was installed throughout. In the bathrooms under tile, the DCM-PRO system was installed on top of Warmup insulation boards. In the remaining areas, where laminate was installed, the easy-to-install FOIL system was sandwiched between our soft underlay and the laminate. Warmup underfloor heating was an ideal fit for this house flip because Katrin was looking for an efficient heating source. 4iE thermostats installed in each room enhance efficiency tremendously by allowing the ability to heat only the spaces you are using while you are using them. Additionally, the industry-leading warranties on the products are able to be registered and transferred from one homeowner to the next – a great perk for a home flip.
The Result
The final results boast a traditional log-home feeling, paired with modern technology. The move-in-ready property began showing in early May. The home sits in a quiet, friendly neighborhood, close to ATV and snowmobile trails, tourist attractions and downtown shopping. A wraparound porch and large backyard make for an inviting setting to a totally re-done space. The roof, foundation, electrical, plumbing, doors, windows, and heating were mindfully renewed to maximize efficiency. The main level includes a luxurious master bedroom, unique bath and utility room, and an open concept kitchen and living space. Upstairs you'll find a cozy bedroom and a gorgeous bath. Throughout, the house has lots of natural light and plenty of storage. Warmup underfloor heating connected to 4iE smart WiFi thermostats throughout not only contribute to an efficient environment but they increase property appeal and appearance – two things very important for home value and resale potential.
Product information
Find out more about the UFH products used in this project.
Have any questions about Warmup?
If you're interested in specifying floor heating in your next project, get in touch with us today.
Related Projects
Discover more inspirational projects from around the world