Underfloor electric radiant heating is arguably the most comfortable and efficient heating available. However, many people think you need a special thermostat for the system to operate properly. That isn't true. If you want to control your heat system from anywhere in the world and adjust it according to the way your family lives, then a WiFi Smart thermostat may be your best option.
Let's look at what you need to know to choose the right thermostat for your radiant heating system.
Understanding Radiant Floor Heating Systems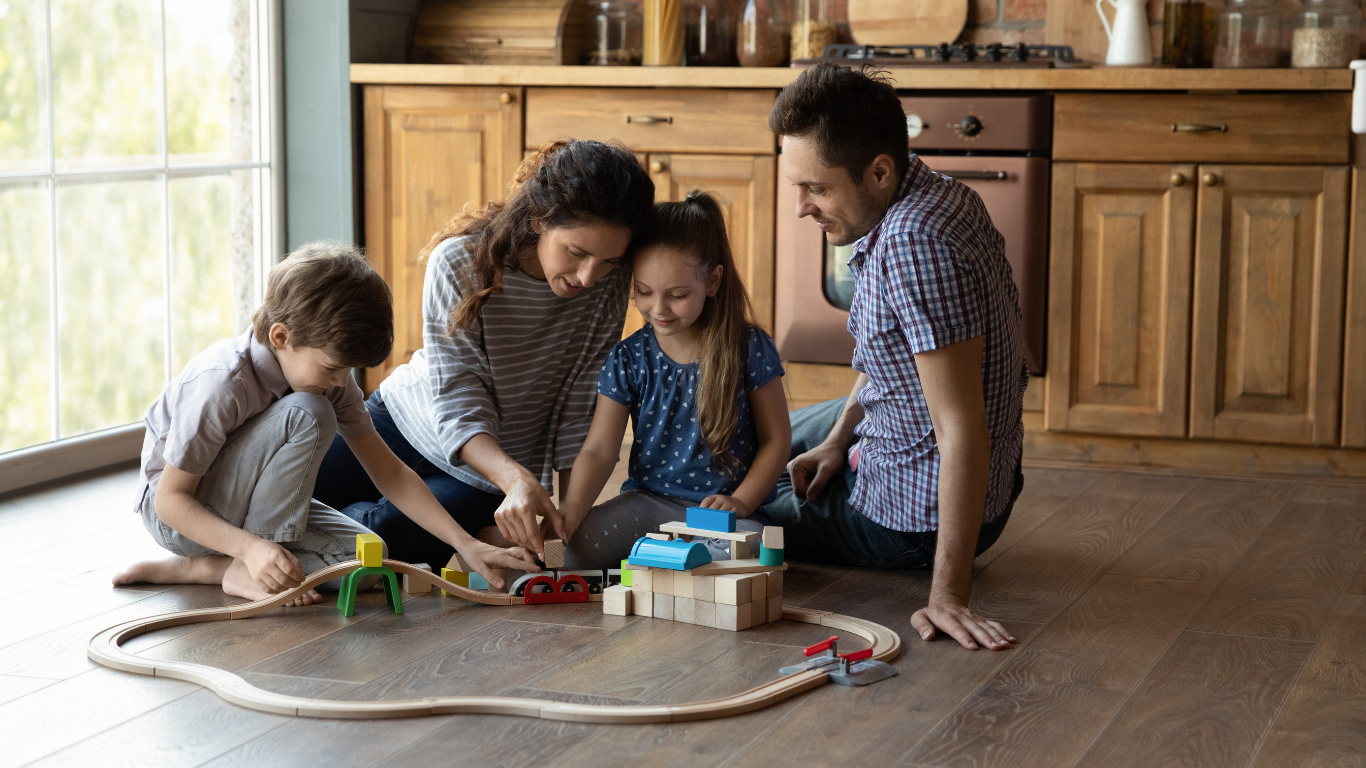 Instead of heating the air like other systems, radiant floor heating produces heat through electromagnetic thermal radiation waves. These waves travel from the flooring material up to objects in the room, which absorb the energy and radiate it back out, thereby warming the entire space.
These waves can store energy for extended periods before they come into contact with a solid object. They release their stored energy as heat through the material when they make contact. This can be through your floors, walls, furniture, and you! As a result, whether the ambient temperature is chilly or not, you will feel the warmth.
Radiant heat is more comfortable, because you feel it sooner and at a lower temperature. With minimal air flow, the room's temperature stays consistent.
How Do Thermostats Work with Radiant Floor Heating Systems?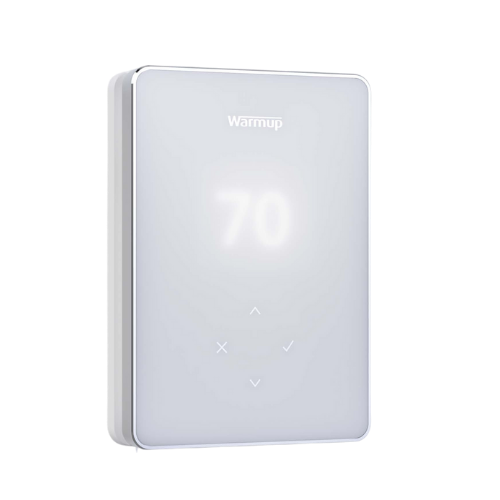 The thermostats used with conventional forced air heating systems sense the temperature of the air surrounding the thermostat, while an electric radiant floor heating system uses a sensor located within the flooring and is activated based on the temperature of the floor.
Are Special Thermostats Needed for Radiant Floor Heating?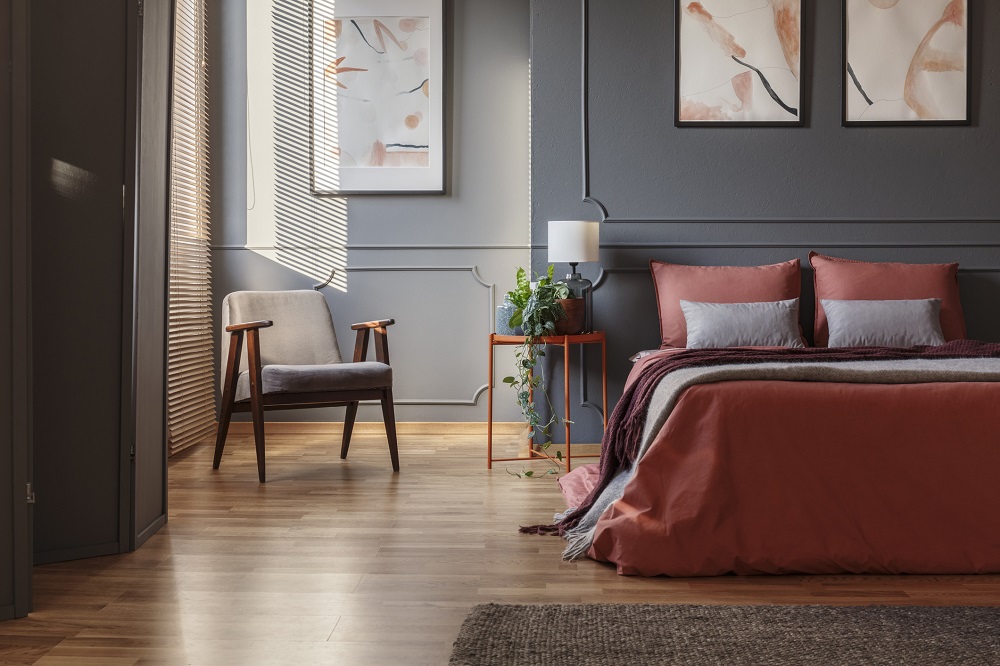 Most modern thermostats today are digital. Radiant floor systems can also use digital thermostats. However, the advantage of radiant heating systems is that they can also use WiFi-operated Smart thermostats that are programmable and help lower utility bills by turning on the system shortly before the room will be used, and then turning off the system when not in use. Warmup thermostats are low voltage, line-voltage thermostats that can control electric underfloor heating and electric baseboard heating
How Thermostats Are Used for Radiant Floor Heating
There are two options when controlling radiant floor heating with a thermostat depending on the overall setup of your heating system. If the system is just to heat the floor and not heat the home, then a floor probe is installed under the floor.
If the system is used as the primary heat source, then an air probe is recommended with a floor probe to precisely measure temperatures while also verifying that the flooring type does not exceed the manufacturer heating limits.
How Many Thermostats Are Needed?
The number of thermostats required will be determined by the level of control you seek. You could have a thermostat for each room in the home that is individually controlled. However, a Smart thermostat offers the option of being connected to multiple sensors and providing each room with a customized heating experience from the single thermostat.
Can Radiant Floor Heating Systems Be Split Into Zones?
Using a separate thermostat for different areas of your home is called zone heating. For instance, the kitchen/dining room may be considered a zone, while the family room and living room would be additional zones. If you place a stand alone thermostat in each of these areas, you are practicing zone heating. Each of these thermostats would require individual settings and have their own radiant heat system.
Where Should Thermostats Be Positioned?
Thermostats should be placed where they can be easily accessed by the person in the room, while performing normal activities. In small rooms, the sensor should be centrally located, near the bulk of human activity in the room.
Special Radiant Floor Heating Thermostats from Warmup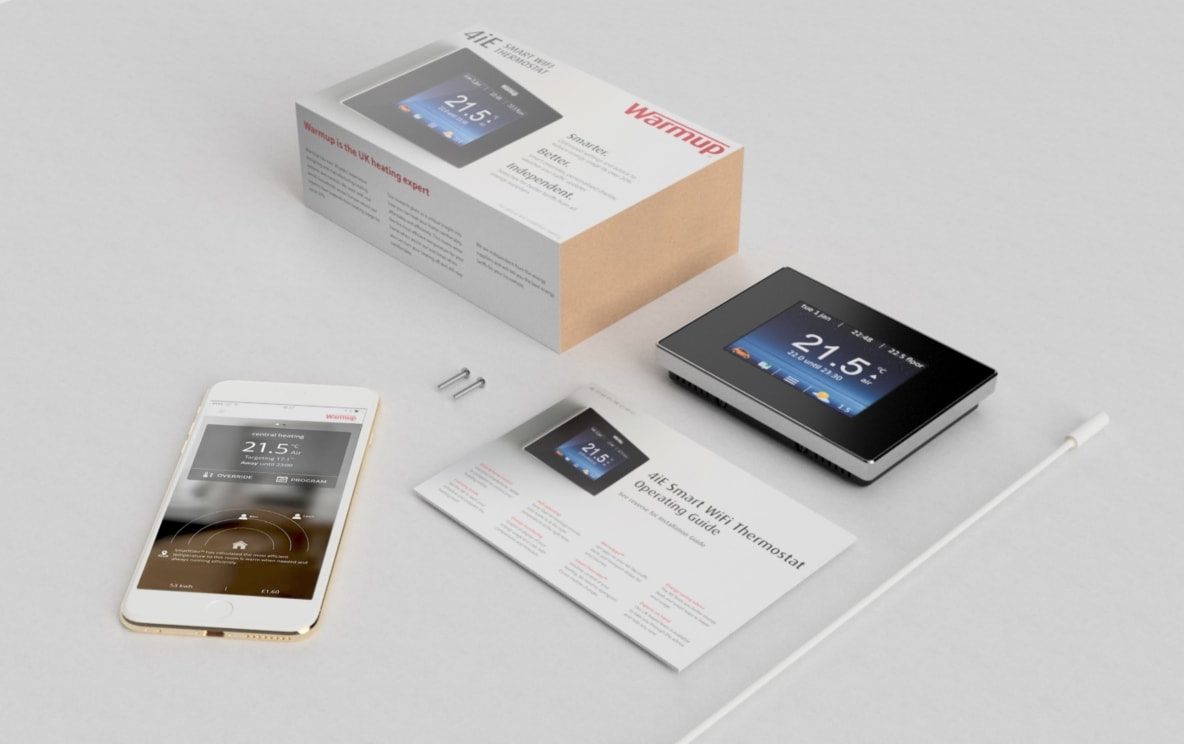 Warmup offers 3 levels of thermostats for their systems (that can also be used with other electric heat systems, such as electric baseboard):
Terra WiFi Thermostat
The Terra WiFi thermostat is easy to use and provides energy-efficient heating control for all types of flooring systems, making it a great choice for the budget-conscious. It never needs programming; instead, it uses Warmup's latest Smart technology to automatically adjust the heat.
4iE Smart Thermostat
The 4iE Smart thermostat uses Warmup's advanced technologies to provide an energy-efficient heating system for your home. No programming is required, and it can be used with electric underfloor heating systems and electric baseboard heat.
6iE Smart Thermostat
The 6iE Smart WiFi Thermostat is the world's first underfloor heating controller with a Smartphone touchscreen. This highly advanced thermostat helps reduce your energy bills by up to $500 through its cutting-edge energy efficient Warmup system. Extremely easy and convenient to use, this thermostat does not require programming and uses Warmup's latest technologies for precision temperature control in your home.
Design and Install the Perfect Radiant Floor Heating System with Warmup
Our experienced staff can help you plan the perfect electric radiant heating layout for a small bedroom addition or design a system to comfortably heat your entire home. We have been in business for over 25 years and have projects completed in over 70 countries.
Warmup radiant floor heating takes up minimum headroom space, which makes it a great choice for remodeling projects – especially if you are just replacing the flooring. Controlling Warmup radiant floor heating systems have never been easier nor better when utilizing our MyHeating app. Featuring the SmartGeo capability, the MyHeating app uses your phone's location to decide when heating is needed, massively boosting efficiency and peace of mind. 
Contact us today for a quick quote!.