Underfloor heating systems are invisible by design. They provide heat by means of electric heat cables or hot water. An electric floor heating system heats wires directly beneath the finished flooring, while a hydronic, or water-based system pumps hot water through piping directly below the flooring. Both operate by radiant heat waves that pass through the flooring to the occupants and furniture above.
Which option should you choose? That will depend on their final use. This article will discuss both types of invisible floor heating systems and their ideal applications.
Benefits of Invisible Radiant Floor Heating Systems
The number one reason for installing an underfloor heating system is its ability to provide even heat throughout the entire room. Underfloor radiant heat is produced when the hot electrical wires or hot water transmit infra-red waves to the room above, warming the people and furniture in the room, rather than the air, much like the Sun heats your skin or clothes on a cold winter day without heating the air around you.
This allows underfloor systems to operate at temperatures 10 degrees cooler, or more, than traditional heating methods. Using infra-red waves to provide the heat results in the following benefits:
Warm feet. When your feet are warm, you feel warmer all over.

Even heat distribution that eliminates hot and cold spots.

There are no fans in a radiant heat system, so it is silent heat.

Cleaner air to breathe – Forced air furnaces disturb the dust and allergens in a room, and then recirculate it throughout the home, ending up in your lungs.

Faster heat up times.

Lower utility bills because the system operates at a lower temperature.
Types of Invisible Radiant Floor Heating Systems
Hydronic Underfloor Heating
Hydronic systems are water-based and sometimes called wet floor heating when set in concrete. They consist of a boiler that heats the water and distributes it under the finished flooring through a series of pipes that heat the room. Due to the thickness of the pipes, hydronic systems are often set in concrete with the finished floor laid on top.
The typical installation of a water-based system is new construction on the first floor, with a poured slab. Due to the size and complexity of hydronic underfloor heating installation, it is not often recommended for small room additions or second or third floor applications. You need to allow extra time for the system to be tested before pouring concrete over it to ensure there are no water leaks. While the initial setup is costly, it is less expensive to operate than electric heating in the long run.
Electric Underfloor Heating
Electric underfloor radiant heat systems are invisible above and below the room. There's no need for a boiler or pumps, as the entire system can be contained above the subflooring. Electric radiant heat can be "wet" if it is covered by thinset mortar for a tile installation, or set in the slab during the initial build. It can also be a dry system that sits in a foil mat that can be installed under carpet, LVT or laminate flooring. The mats or loose wiring are easy to install and are perfect for 1 or 2-room renovations.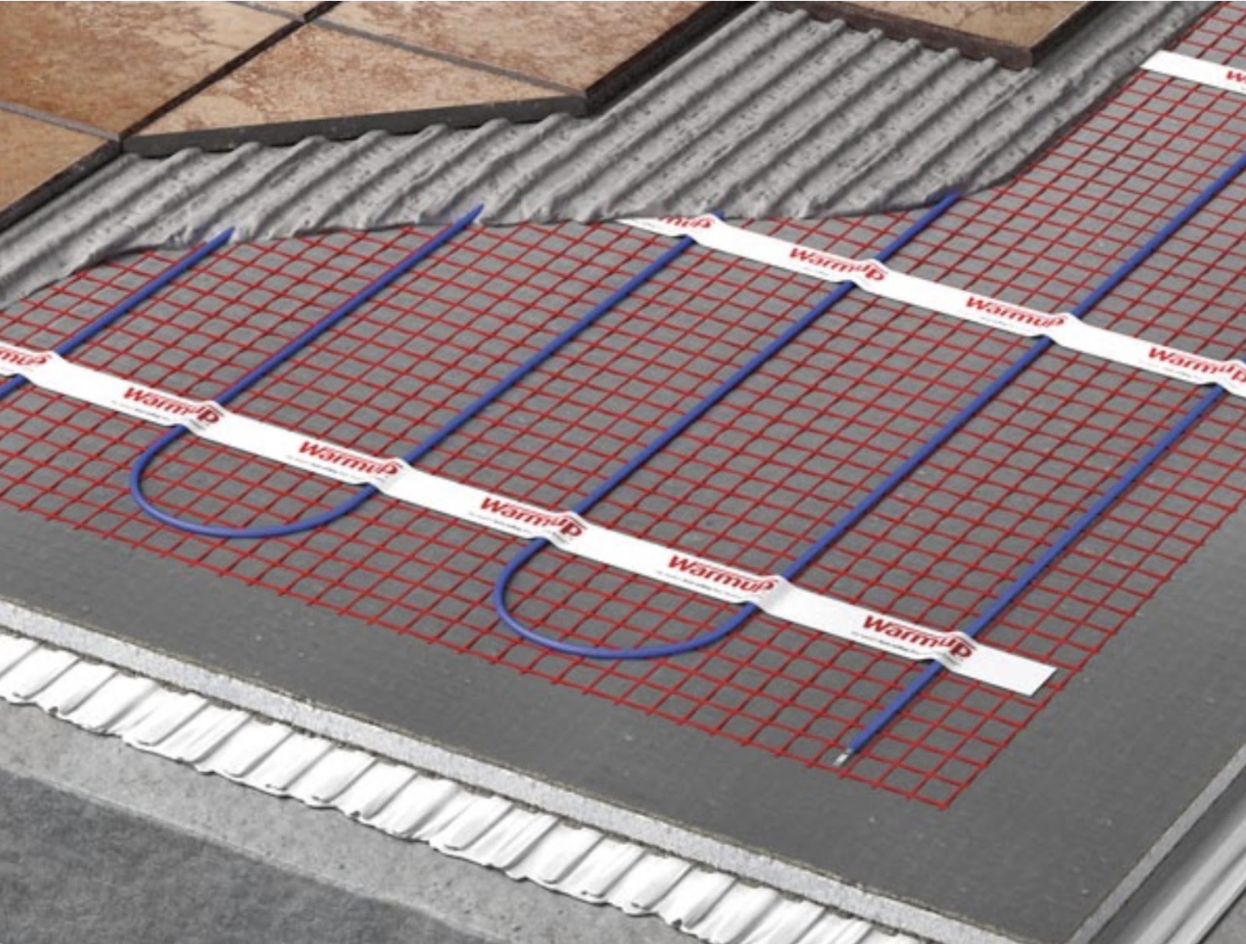 The most control you have with standard heating units is called zone heating/cooling. While this is preferable to heat or cool the entire house simultaneously, electric underfloor heating gives you the flexibility to control individual rooms. A Smart thermostat connected to the system can be programmed to warm up a room at peak use times and keep it cooler during the remainder of the day. This will result in substantial energy savings without skimping on comfort.
Utilizing Both Hydronic and Electric Invisible Heating Systems

If you agree that underfloor radiant heat is the best system for comfort and energy efficiency, then a blended or hybrid system could be the solution for your home. For homes with a basement or two-story homes on a slab, a hydronic system will be the best option for the first floor, since all the piping can be run in the concrete where it will be invisible. Installing the electric system is simple and can be customized based on the finish flooring in each room.
Finding the Right Invisible Heating System with Warmup Radiant Floor Heating Options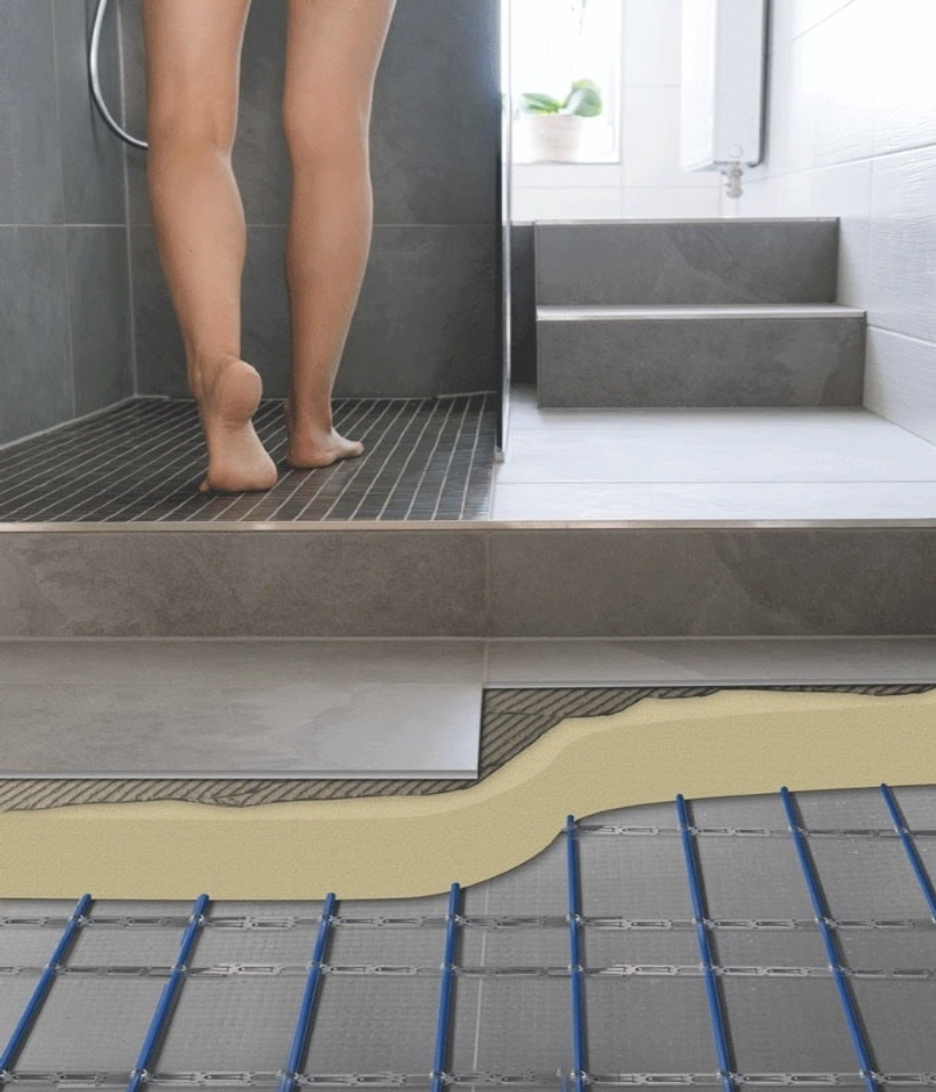 Warmup has been developing underfloor radiating heating systems for more than 25 years and is used by professionals in over 70 countries around the world. We offer invisible heating solutions for almost every type of finished flooring material:
Wood

Carpet

Vinyl

Luxury vinyl tile

Ceramic and stone

Laminate

Engineered flooring
Our most popular systems are:
Heated Sticky Mat – This mat is only ⅛" thick and only raises the floor ⅛" inch and can be used with almost any floor finish. It is best for rooms with regular dimensions and has a self-adhesive backing for fast installation.
DCM-PRO – Designed to go under ceramic tile, this mat is manufactured in such a way that prevents movement of the subfloor from cracking the tile attached to the mat. Loose cable is run through channels in the mat, allowing you to heat only the usable areas of the floor.
Foil Heater – Primarily used in large open spaces under floating floors, such as carpet, laminate, and engineered wood.
Inslab Cable – Used in fresh concrete pours, such as basement slabs and driveways, but is also suitable for laying on old concrete with at least a 2" pour over it.
Contact Us today and let us help you choose the best system for your project.