A walk-in shower is a luxurious addition to any home, but with all the different flooring options on the market, it can be difficult to choose the right one for your needs.
Here are seven of the best flooring options for a walk-in shower, so you can make the best decision for your home.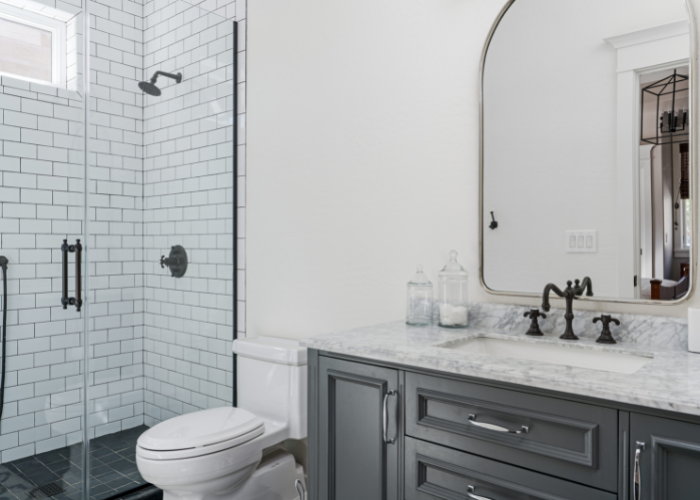 Benefits of a Walk-in Shower
Extra Space
When it comes to walk-in showers, more space is always better. Having extra room to move around gives you the freedom to shower however you like, without feeling cramped or claustrophobic. It also provides a more luxurious showering experience, as you can take your time and enjoy the full benefits of the showering.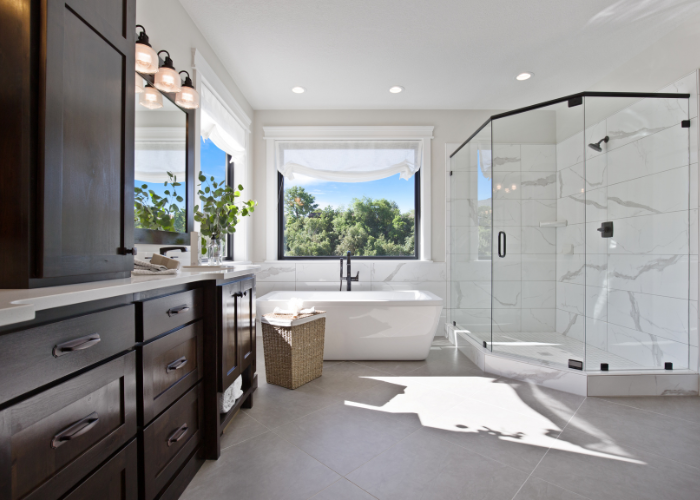 If you have a larger walk-in shower, you can easily add additional features like rain shower heads or built-in shelving. So, if you're looking for a truly personalized and indulgent showering experience, opt for a walk-in shower with plenty of extra space. You won't be disappointed!
Easier to Clean
More and more people are enjoying walk-in showers, because they make the bathroom feel luxurious with their openness. They're also easier to clean than regular showers, because there's no ledge for dirt and grime to accumulate on.
Accessibility
If you're looking for better accessibility, then a walk-in shower is definitely the way to go.
Walk-in showers are designed so that there is no lip or threshold to step over, making them much easier to enter and exit. They also tend to have a wider door opening, which can make them more accessible for people with mobility impairments. In addition, many walk-in showers come equipped with built-in benches or seats, which can provide a convenient place to rest while showering.
More Door Options
Shower doors come in various styles, including frameless, semi-frameless, and framed doors. Frameless shower doors are the most popular type of shower door on the market. They're made entirely of glass, which gives them a sleek, modern look.
However, frameless shower doors are also the most expensive option. Semi-frameless shower doors are a good middle ground between frameless and framed doors. They have metal frames around the edges of the door, but most of the door is glass. This makes them more affordable than frameless doors, while still providing a stylish look. Framed shower doors are the most budget-friendly option, but they can look dated.
7 Best Flooring Options for a Walk-in Shower
1. Concrete
One of the most important aspects of designing a walk-in shower is choosing the right flooring. While there are many options, concrete can be a good choice for a number of reasons. First, concrete is extremely durable and can withstand the heavy traffic common in a shower. Second, properly sealed concrete will provide a waterproof surface. Third, concrete is easy to clean and maintain, making it an ideal choice for a busy household. Finally, concrete is an affordable option that can add value to your home.
2. Marble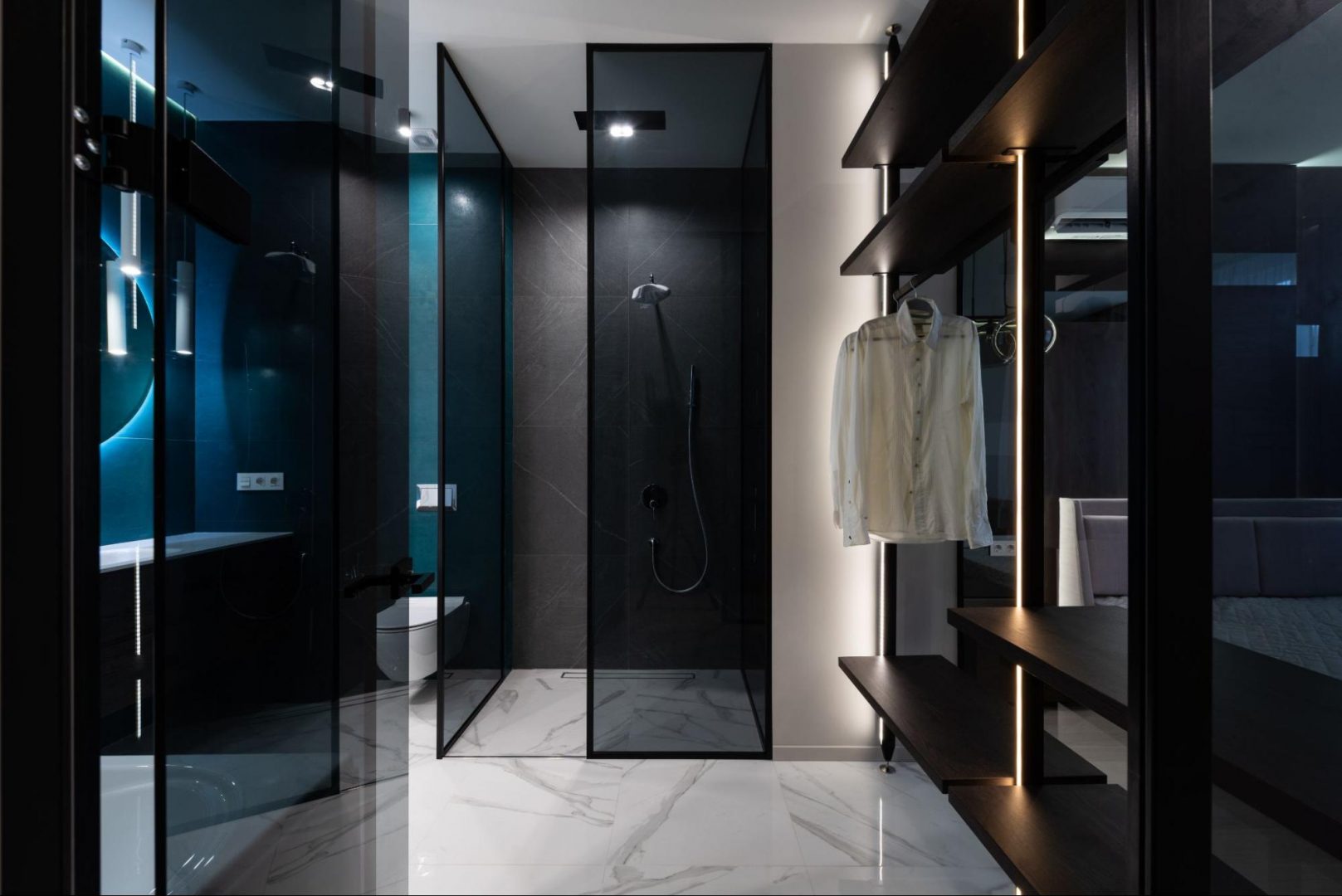 When choosing flooring for a walk-in shower, marble is a great option. It's classic and elegant, and it's easy to keep clean. If you're concerned about slip-resistance, you can choose a marble with a textured surface. However, remember that marble can be expensive, and requires regular maintenance to keep it looking its best.
3. Porcelain Tiles
Porcelain tile is often the best choice for a number of reasons. First, porcelain is extremely durable and it can withstand heavy traffic. Second, it is resistant to moisture and mold, making it an ideal choice for a wet environment. Third, porcelain tile is easy to clean and maintain. Finally, it is available in many colors and styles, so you can find a tile that fits your specific design needs.
4. Glass Tiles
Glass tile is a popular option for walk-in shower floors, because it is durable and easy to clean. Glass tile is also impervious to water, which makes it a good choice for high-traffic areas like showers. Glass tile comes in various colors and styles, so you can find an option that fits your personal style. Glass tile is also safe for flooring, because it is non-porous and does not absorb water. When installed properly, glass tile can last a lifetime, with minimal maintenance.
5. Granite Tiles
If you're looking for a durable, stylish, and affordable option for your walk-in shower floor, granite tile is a great choice. Granite is a natural stone resistant to scratches, staining, and chipping, making it a low-maintenance option for busy families. Granite tiles come in various colors and styles, so you can create a custom look that fits your home's décor. Since granite is a natural material, it helps create a warm, inviting space in your bathroom.
6. Pebbles
While there are many options, pebbles are definitely one of the best choices. Pebbles are naturally slip-resistant, so you won't have to worry about accidents in the shower. They're also extremely durable, so they'll stand up to years of heavy use. Additionally, pebbles can add a touch of luxury to your shower, making it feel like a true oasis.
7. Ceramic Tiles
Similar to porcelain, ceramic tiles are fired at lower temperatures than porcelain, resulting in tile that is softer and less dense. Ceramic is also more porous, so utilizing unfinished ceramic tiles in a walk-in shower is off limits. Likewise, the clay used to make ceramic is lesser than porcelain, so while you may get a good deal, ceramic tiles overall just aren't as good as porcelain. They do stay cooler than porcelain tiles, and while great for warm climates, this wouldn't work so well in cooler climates.
Fantastic Additions to Walk-in Showers
Shower Bench
A shower bench is a fantastic addition to any walk-in shower. Not only does it provide a place to sit and relax, but it also helps keep the main bathroom floor clean and dry. If you'd like to use your bench for sitting, heating it is a must.
There are various materials that can be used for a shower bench, but some of the most popular options include tile, stone, and concrete. When choosing a material for your shower bench, consider both durability and slip resistance. In addition, you'll also want to think about how easy the material will be to clean. If you're looking for a truly unique shower bench, you may even want to consider using recycled materials, such as glass or metal. Regardless of what material you choose, a shower bench is a great way to add function and style to your walk-in shower.
Advanced Fixtures
When planning a walk-in shower, there are various fixtures to choose from to create the perfect space. For example, walk-in showers can be outfitted with a rain shower head, which provides a relaxing and spa-like experience. Or, for a more traditional look, a handheld shower head can be attached to the wall. If you want to add some additional storage space to your walk-in shower, consider installing shelves or a small niche into the tile work. Finally, walk-in showers can also be equipped with a built-in seat or bench, which can be especially useful if you have elderly family members or small children. By carefully considering all your options, you can create a walk-in shower that is both functional and stylish.
Radiant Floor Heating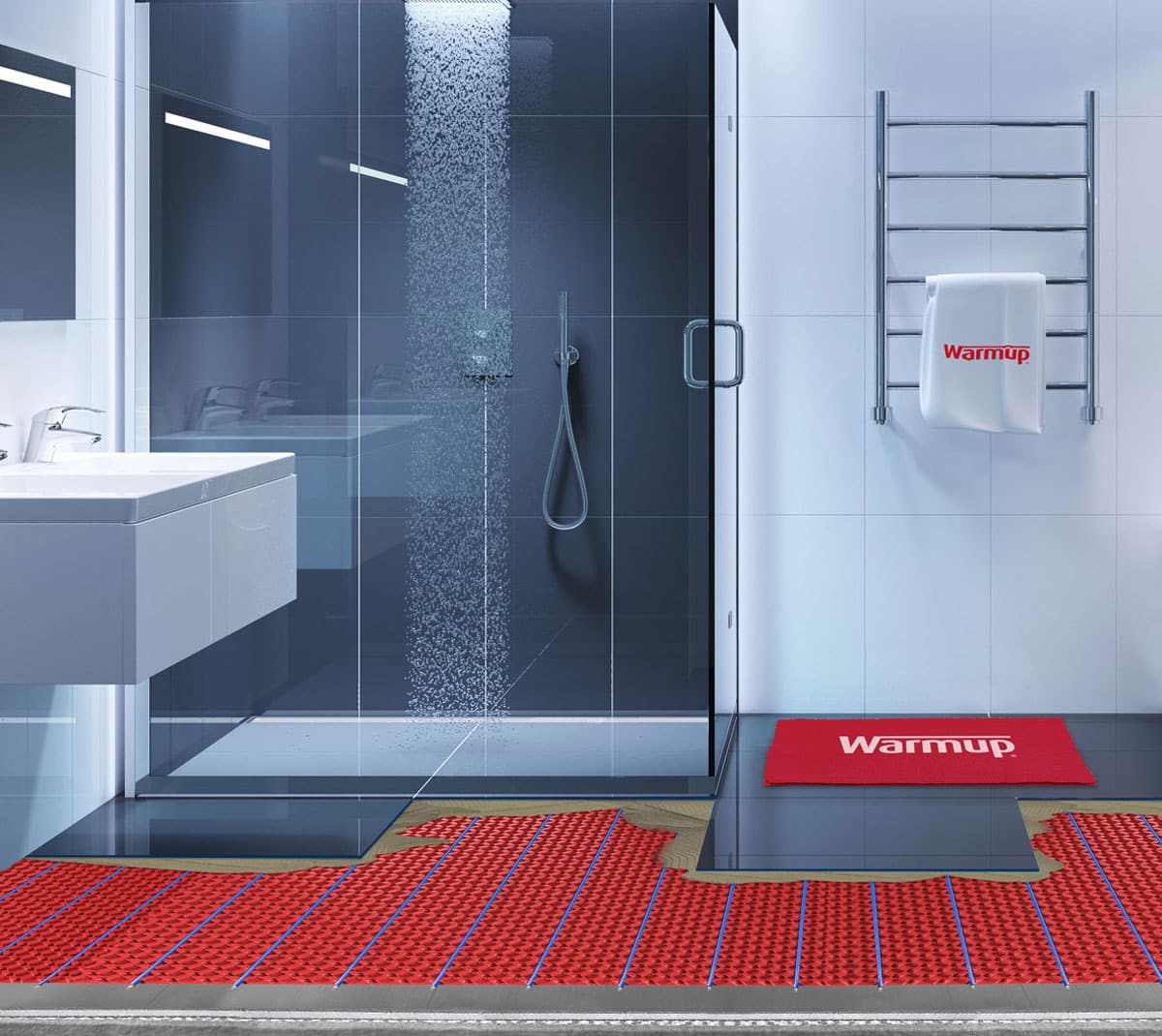 When it comes to walk-in shower flooring, there are several options available. However, one option that is often overlooked is radiant floor heating. Although it may seem like a luxury, there are actually several advantages to radiant floor heating, particularly for walk-in showers:
It can help keep the space warm and comfortable, even on cold days.
Radiant floor heating does a great job of evenly distributing heat, which can be beneficial for those with certain medical conditions.
It is relatively energy-efficient and can even help improve indoor air quality.
Overall, radiant floor heating is an often overlooked, but potentially beneficial option for walk-in shower floors.
Heat Your Walk-in Shower Floor with Radiant Heating from Warmup
If you're looking to add a touch of luxury to your walk-in shower, consider installing radiant floor heating. Warmup offers various radiant floor heating systems that are perfect for walk-in showers. Our systems are quick and easy to install, and can be retrofitted to almost any walk-in shower. In addition, our systems are energy-efficient and can help improve your home's indoor air quality. 
To learn more about our walk-in shower flooring options, contact us today.