The DCM-PRO Floor Heating System from Warmup® combines anti-fracture protection, floor heating, and WiFi controls.
The innovative system from Warmup® provides high heat outputs for Primary Heating, controlled by Warmup's proprietary MyWarmup app. The system is comprised of a ¼" castellated membrane, the Warmup® DCM-PRO Cable and Warmup® 4iE Smart Thermostat. The full system comes with a 30-year warranty and is currently available in 63 countries. It will be available for purchase in the United States, Canada, and Mexico in September 2017.
The DCM-PRO Cable
The pre-spaced channels on the DCM-PRO Membrane make it easy to space and lay the DCM-PRO Cable evenly. Spacing must always be consistent throughout the installation, ensuring even heating throughout the floor. Cables can be spaced at 2, 3 or 4" for the highest flexibility in heat outputs, from Comfort Heating to Primary Heating. The DCM-PRO Cable is durable and flexible due to its ETFE inner jacket for high heat outputs and a PVC outer sleeve for a smooth installation and protection of the cable.
The DCM-PRO anti-fracture Membrane
The TCNA-tested DCM-PRO Membrane can be attached to wood and cement subfloors using any tile adhesive. The patented DCM-PRO design of the Membrane allows for more adhesive to connect with the cable and thereby distribute the heat more evenly leaving no hot and cold spots. The DCM-PRO Membrane is ready to tile.
The Membrane design is comfortable to work on and praised by tile professionals. Installers can use either modified or unmodified adhesives over the membrane to suit their installation needs. The DCM-PRO Membrane can even be covered with self-levelling mortars (SLU's) to allow installation of small format tiles and other floor types such as glue-down wood and LVT's, to be laid on top of the DCM-PRO System.
The unique design of the DCM-PRO Membrane protects the cable from mechanical damage caused by walking on the system, as well as any other possible harm to the system caused by buckets, tools or a trowel when tiling. This leads to a reduced risk of installation failures.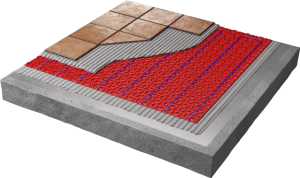 The 4iE® is quite simply the smartest line voltage thermostat on the market.
We designed it so you that wouldn't have to use it. It can program itself using your smartphone location and the occasional override. The WiFi capability also allows you to vary your settings by zone. Your 4iE® will recommend the best setting for each room based on usage and you will be able to manage all these zones from the MyWarmup app.
The 4iE® is designed to look great in both modern and traditionally styled homes, with high-gloss effect front faces, and beveled chrome edges to reflect wall colors. A range of vinyl Overlays are available in bold colors and textured metal and wood effects. You can even use a custom photo to complement your wallpaper. The large color touchscreen can be customized with different themes and uploadable photo backgrounds. There's even a 7-day local weather forecast icon built in.
Best Warranty
The DCM-PRO Cable comes complete with a 30-Year Warranty and SafetyNet™ Installation Guarantee. The DCM-PRO Membrane has been rated as up to Heavy Commercial under the C627 Robinson test and has been tested by the Tile Council of North America to the ASTM 118.12 standards. For more information about Warmup® warranties, please click here.
Editor's Notes
Warmup® is a certified ISO 9001:2008 UK Manufacturer based in Danbury, CT creating and delivering electric underfloor heating solutions. We have sold over 2.5 million systems in more than 70 countries in over 23 years of trading. Warmup® combines high-grade heating cables, proprietary Smart WiFi controls and efficient insulation to supply contractors and homeowners with a reliable primary heat source for any cold room and the whole house. A focus on efficient heating is what has made Warmup® the World's best-selling floor heating brand today.