When winter rolls around, it can get incredibly cold, especially in Minnesota. With temperatures often below zero degrees and highs still below freezing, Minnesota homeowners have to contend with freezing temperatures and lots of snow. These types of frigid conditions can pose severe hazards to you and your family's safety.
When dealing with icy weather, driveways and roadways are some of your biggest concerns. That's why so many Minnesotans are turning to radiant heating – a heating solution for both inside and outside of the home, including walkways, outdoor staircases, and driveways.
The Massive Benefits of a Heated Driveway in Minnesota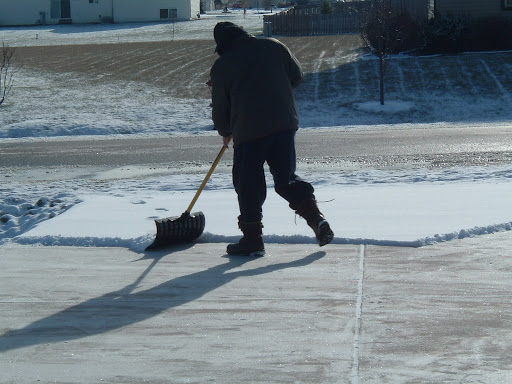 Whether you've lived in Minnesota your entire life or have only recently moved here, understanding how to combat the winter weather is vital, and that includes understanding the massive benefits of a heated driveway:
You'll never have to shovel snow again. The system is designed to click on before or at the first sign of precipitation below freezing. This allows the system to maintain a constantly clear surface. When the snow melting system kicks in, the driveway will be as clear of ice and snow as it is on a warm summer day. That means you don't have to break your back trying to tediously clear all that snow just to have it fill back up the following morning.
Depending on your community, you could pay anywhere between $25 and $75 per hour to have your driveway cleared. With radiant heating, you won't need snow removal services anymore. No more waiting on a plow as your surface will be snow-free.
There's no need to purchase ice-melting chemicals or rock salt. Those snow-melting solutions can kill nearby plants and might even damage the undercarriage of your vehicle.
It also helps maintain your driveways for much longer. Consistent exposure to sub-zero and below-freezing temperatures can damage your driveway over time.
An icy driveway can be incredibly dangerous to walk on. If you and your family have to endure the harsh winter conditions, you want to ensure that you can make it to your vehicle without slipping and falling.
Heated driveways also increase the overall value of your property. If you're interested in appreciating value or eventually selling your home, a heated driveway is the way to go!
What is Radiant Floor Heating?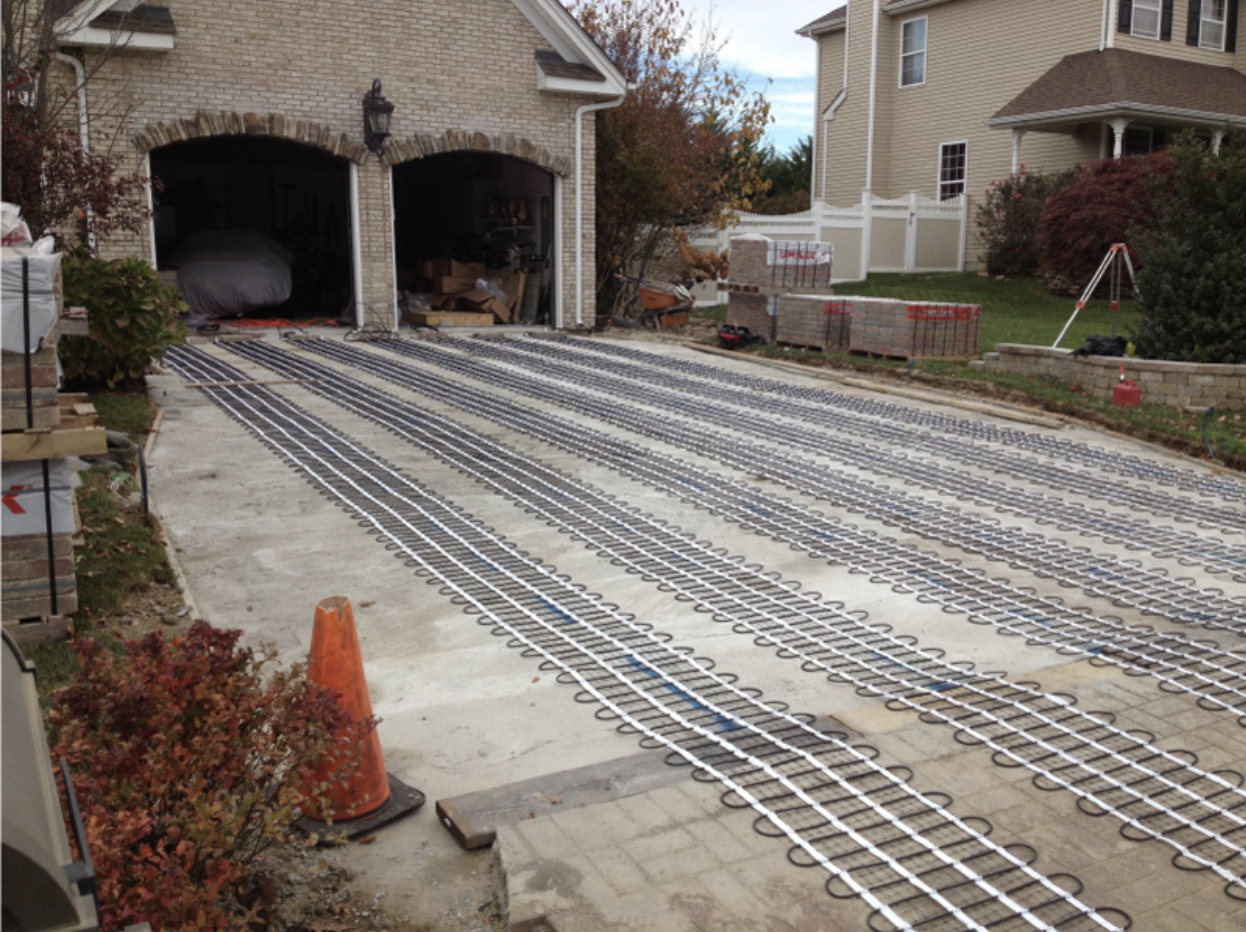 Radiant flooring heating is a heating system that utilizes either heated water or electrical cables to heat the floor or ground. The heat rises, and in the context of a home, it creates an even distribution of heat. However, when it's located outdoors, it's commonly used to melt or prevent snow buildup.
How it Works
Radiant floor heating is used by applying the principle that heat rises, so the heating system heats the floor and that heat then rises to fill the rest of the home. This process creates evenly distributed heating that leaves your space comfortable and warm.
When discussing heated driveways and other outdoor radiant heating applications, it works similarly. The radiant heating system is installed beneath the driveway and is activated by different differing methods:
Temperature and moisture sensing control
WiFi controller that will click the system on based on the local forecast
It is possible for users to change the probability that their system will activate as well as receive push notifications to confirm activation of the system.
The 2 Types of Radiant Floor Heating
There are two primary types of radiant floor heating currently used by Minnesota homeowners. The first is called "electric heating." The second is called "hydronic heating."
Electric Heating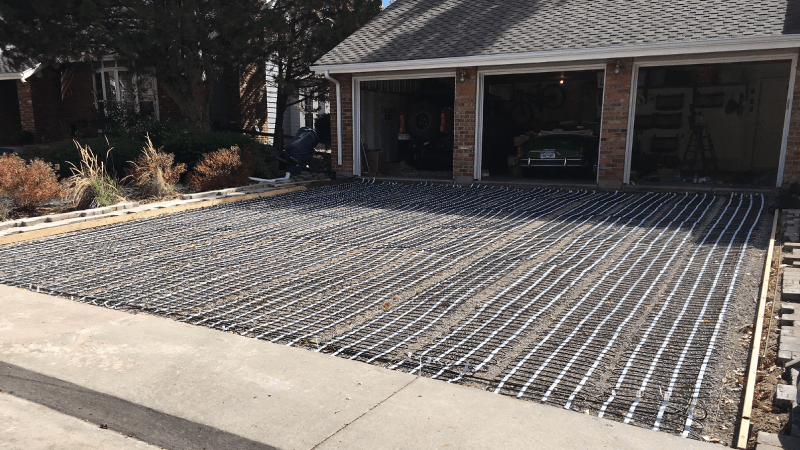 Electric radiant heating utilizes cables that are heated using electricity. First, the cables heat the floor or ground, which melts the snow or warms the home. This type of radiant heating is especially beneficial because it is safer than other heating solutions. Plus, it's energy-efficient, cost-effective, and easy to install.
Hydronic Heating
Hydronic heating uses tubes filled with heated water. The water-filled tubes heat the floor or ground, which melts the snow or warms the home. This system is even more energy-efficient than electric heating because it doesn't require electricity, but it does require an additional water-heating system.
How Much Does a Heated Driveway Cost?
A heated driveway costs $14 to $24 per square foot to install if you hire a professional contractor. The average 2-car driveway is 640 square feet, so the average cost for installing a heated driveway is between $8,960 and $15,360.
What Are the Running Costs After Install?
Luckily, heated driveways can last for decades, so the initial cost is essentially all you'll have to pay. Once you have the system installed, the ongoing costs to run a radiant heating system depend on the electricity used to power it. Generally speaking, costs are fairly low, due both to the physical properties of the system and that it is not always on.
Warmup provides a great chart to calculate the projected wattage by square feet. This is a handy first tool when considering heated driveways to see what the ultimate costs will be.
Consider Heated Walkways and Patios Too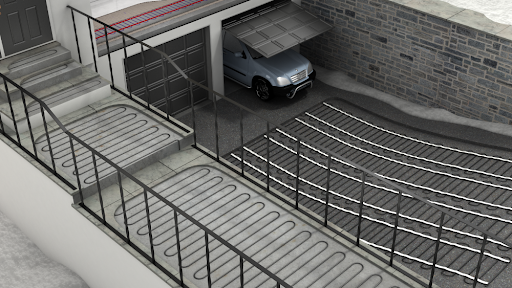 While you're in the market for a heated driveway, you should also consider getting heated walkways and patios. Snow and ice buildup on your walkways, porches, decks, and patios can be incredibly dangerous. If you want the outside of your Minnesota home to be as safe as possible from the harsh winter weather, radiant heating is the way to go!
Additional Tips and Ideas for Winter Protection in Minnesota
While winter proofing your home, don't just stop at your driveways, walkways, and patios. There are many other ways to protect your home during the winter months. Check out some of Warmup's state-of-the-art winter protection products, including:
Install a Heated Driveway with Warmup's Radiant Heating System
Don't wait until the snow gets out of hand before investing in your family's safety and comfort. Warmup's simple-to-install driveway heating systems will make your Minnesota home safer than ever, and you'll never have to worry about snow buildup or ice-covered driveways again. Contact us today to learn more!